Alec Stewart column: The wonders of touring India with England

By Alec Stewart
Former England captain
Last updated on .From the section Cricket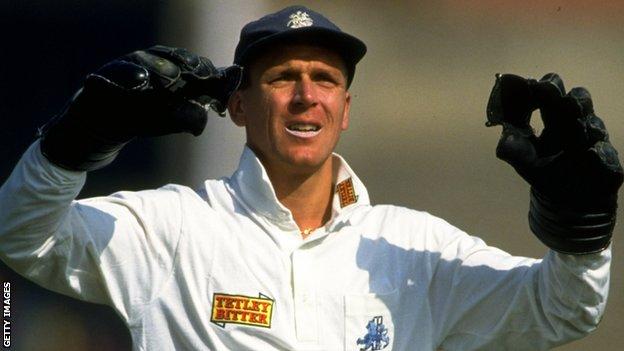 England's cricketers fly to Dubai on Thursday for a training camp in preparation for their winter tour of India.
Any tour as an international cricketer is a privilege, but India is particularly fascinating and a country that lives and breathes cricket.
It's the country where I made my international debut, in a one-day Nehru Cup match against Sri Lanka in Delhi in October 1989.
The first thing that struck me on that tour was the passion the Indian people had for the game. I was an unknown when it came to international cricket, yet people seemed to know a lot about me and other similarly inexperienced players.
While the country has developed considerably since I was last there for the 1996 World Cup, I did find that some of the things I take for granted in England were much different in India - especially when we were based outside the major cities.
But little things like phone calls being disconnected and the electricity going out in the hotel are soon forgotten once you tap into the country and begin to understand its culture.
And if you think our Premier League footballers are big names, you should see the pedestal India's cricketers are put on. It just doesn't compare.
The top Indian players like Sachin Tendulkar and MS Dhoni are worshipped now, and it was Kapil Dev and Mohammad Azharuddin when I was playing.
When I was touring, we were advised to put a block on our hotel room phone because fans would ring just to say hello, while other times you would receive a knock at your door and there would be a family standing there saying they had travelled four hours just to meet you and to have a photo taken.
It was also not uncommon to find 40 or 50 people wanting autographs while you ate your breakfast in the hotel, and although it might mean your cup of tea going cold everyone would leave with an autograph.
Security became a concern in the wake of the Mumbai terror attacks in 2008 when 164 people were killed and the team had to fly home - and obviously I was not there to witness that - but I never had any worries with safety when I toured.
There was one occasion during a one-day international in Chandigarh when we heard a loud bang while we were in the field. We were later told that a small bomb had gone off at the back of the ground, but we just carried on and played the game.
One thing that has improved dramatically since I first visited India is the travel around the country.
When we toured in 1993 there was an internal flight strike and we had to take a lot of trains. It was regarded as first-class travel but it was certainly not what we were used to at home. The food on offer was far from appetising and Lancashire's Bob Bennett, our tour manager on that trip, was kept busy offering around his hand-made corned beef naan sandwiches.
When we did catch a flight, our pilot said after we landed we were safe "by the grace of god". Apparently a flock of birds had flown into one of the engines and there was a massive hole in one side of the plane. We'd just put it down to turbulence!
However, having spoken to some of the lads who have toured more recently, I understand everything has changed dramatically. Not only is India a cricketing powerhouse, but it's fast becoming one of the biggest centres of business in the world.
The major cities, hotels, restaurants and travel are all top class now and I always say to people that they should go and sample India if they ever get the opportunity.
It's a fascinating country, and one that loves its cricket. The England team should be looking forward to their winter tour there.