England batter Susie Rowe reveals World T20 anguish
Last updated on .From the section Cricket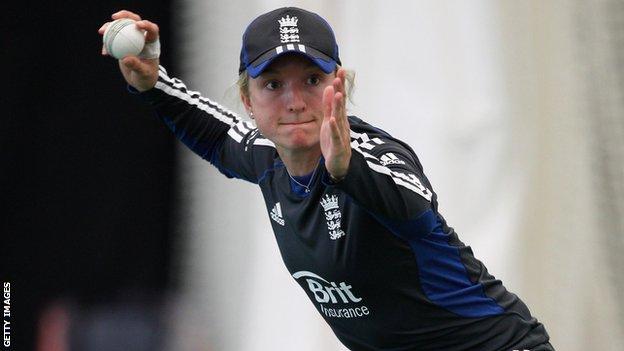 Kent and England's Susie Rowe has revealed her "great disappointment" at missing the World Twenty20 in Sri Lanka through injury.
Rowe, 25, fractured her thumb in the second T20 international against the West Indies in September.
"I've never felt anything quite like it really," she told BBC Radio Kent.
"The moment I had that X-ray and put into terms what that actually meant, missing the World Cup, there's no way I can describe that feeling."
England, the 2009 champions, eventually lost to Australia by four runs in the final and Rowe admitted: "It was very painful to not be there."
Lower-order batter Rowe was forced to watch the tournament from her home in Kent and found it hard to be an armchair fan, especially as her parents decided not to cancel their trip to Sri Lanka.
"Seeing them on TV when I wasn't there was a bit strange to get my head around
"I think my niece heard a few swear words. I was getting quite into it," she said.
In a bid to distract herself, Rowe stepped up her running and has entered the Great South Run on Sunday.
She is determined to regain full fitness in a bid to win selection for for the 50-over World Cup in India in the New Year.
"I'm literally twiddling my thumbs at the moment for rehab.
"I hope to be training properly in a couple of weeks once I get it fully strong and mobile.
"I've started batting already but I feel like a village cricketer at the moment," said Rowe.
A regular in England's Twenty20 side for the past two years, she has played one solitary one-day international.
"My forte is more Twenty20," she conceded. "The 50-over format has no guarantees for me.
"I'll be looking to get into that final 15 [for the World Cup]. I need to work hard and put in good performances in training.
"To be honest, they know generally who they want to take.
"I'm going to do everything that I can to try and put my case forward."