Alec Stewart column: India right to exploit home advantage

By Alec Stewart
Former England captain
Last updated on .From the section Cricket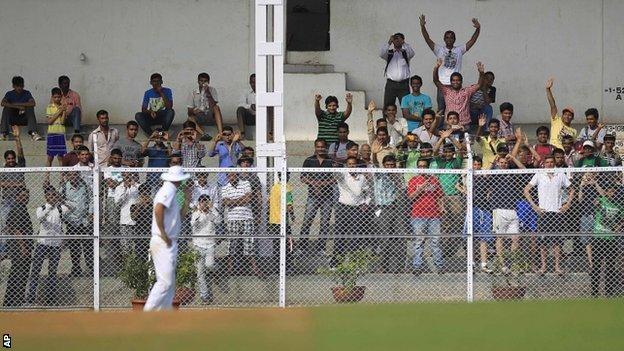 There has been plenty of criticism of India for choosing not to field any spinners in their 'A' team currently taking on England in Mumbai.
Former captain Michael Vaughan branded the tactics "pathetic" and ex-coach David Lloyd accused the Indians of "lacking in class".
My view is that the home side can do exactly what they want. India want to win the Test series and get revenge for the 4-0 whitewash by England 18 months ago so why wouldn't they pick a side that doesn't give the tourists much preparation for what they are going to be facing in the Test matches?
I am all for making use of home advantage and it should be the same when touring sides come to England. You give them as little practice against what they are going to be facing in the international Test arena as possible, because you want to make sure your visitors are as undercooked as possible.
India's tactics are nothing new. It used to happen whenever we toured Australia. Just before going to Brisbane for the first Test match, where it is hot and humid and the pitch bounces, you would play your last warm-up game in Tasmania, where it is often cold and damp and the ball keeps low.
India are using common sense to maximise their home advantage but England should not worry about something they have no control over.
Their best bet is to use the local net bowlers and get as much practice as possible against the talented but often raw Indian-style spin bowling.
In India you are never short of local bowlers who are keen to have a crack at the England batsmen in the hope that they might get recognised by their own cricketing authority. They won't have the quality of Ravichandran Ashwin or Pragyan Ojha, but they will have some mystery about them and a few surprise deliveries.
Despite the absence of top-class spin bowling, there is still plenty to be gained for England in the ongoing match in Mumbai and the two further warm-up games that follow.
Over the last six or seven years, England's tour itineraries have not always been as good as they could be in terms of preparing the team for the first Test match.
They have played too many two-day games with 13 or 14 players on each side, which can lack an edge because they do not count towards team and individual career records and with players coming on and off all the time it devalues the game. But these three first-class matches will give all of the squad a workout in proper match conditions.
I was not surprised to see Nick Compton get the nod to open the England batting in the first match. I think he earned the right to start ahead of Yorkshire's Joe Root through sheer weight of runs in the County Championship and he has the make-up to be an opening batsman both mentally and technically.
I wouldn't read too much into the selection, however, because I'm sure Root will get his chance. Playing the opening game gives Compton the opportunity to put a score on the board and stake his claim, but if he misses out and Root gets runs in the next one then he jumps ahead in the queue.
Likewise, I don't think the selection of Samit Patel against India A means he is a shoo-in for the Tests. If these pitches are going to turn, England are going to need two spinners to take 20 wickets and that means playing Graeme Swann and Monty Panesar.
If, however, they think a pitch is not such a turner but will offer a little bit of assistance to the slow bowlers, then Patel comes into the frame as a batsman who can take some of the burden off Swann with the ball.