Australia welcome move to allow day-night Test matches
Last updated on .From the section Cricket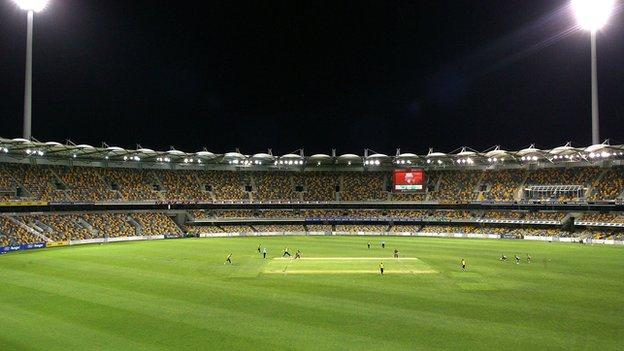 Cricket Australia has welcomed the allowance of day-night Test matches, raising the prospect of Ashes contests down under being played under lights.
CA chief executive James Sutherland said: "We limit ourselves by staging cricket's premium format at times when fans cannot watch."
It is understood day-night Tests are not yet being considered in England.
The England and Wales Cricket Board is not believed to be keen on night matches because of the ongoing appetite for daytime cricket in the UK.
The first four days of the Trent Bridge Ashes Test for the summer of 2013 have already sold out, as have the first three days at Old Trafford.
More than 850,000 spectators attended international matches in the United Kingdom in 2011, according to ECB figures.
The prospect of day-night Tests has been explored for some time, with the annual curtain-raiser to the English season between MCC and the county champions being played under lights in Abu Dhabi since 2009.
Those matches have included trials with a pink ball, with the ICC acknowledging that any countries participating in a day-night Test have to agree on a "precise brand, type and colour of ball to be used for the match".
Sutherland acknowledged that issues surrounding a suitable ball mean that day-night Tests are not imminent.
"Finding a Test ball that is as easily visible in the day as it is at night is still a technical work in progress," he said.
"The traditional red ball is not regarded as suitable for night cricket because it is not as visible and the white ball is not suitable for Tests as it is not as durable.
"Experiments with other colours such as pink, orange and yellow have seen some promising developments in recent times."
However, despite that obstacle, Sutherland said the ICC ruling had moved the notion of day-night Tests one step closer to reality.
"CA has a formal strategic plan that demands that Australian cricket puts fans first and we will now add day-night Tests to the agenda when we talk to other Test nations about their future tours down under," he said.