Alec Stewart: Graeme Smith to Surrey - the inside story

By Alec Stewart
Former England captain & Surrey executive director
Last updated on .From the section Cricket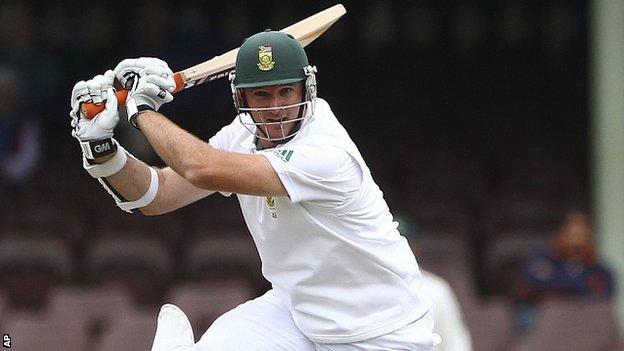 Surrey's is the biggest signing in county cricket since Shane Warne went to Hampshire in 2000.
The South Africa Test skipper is a hugely impressive individual with great presence and has been one of cricket's outstanding players and captains for a number of years.
After everything that went on at Surrey last season - with the tragic death of Tom Maynard and the subsequent departure of our captain Rory Hamilton-Brown - it became very evident that we needed a new leader to take the club forward.
We have also required an established, proven opening batsman for a number of years so it didn't take long for Graeme's name to work its way to the very top of our list.
I have known Graeme since I played against him in my last Test series for England in 2003. It was the first time he had captained South Africa in England. He scored back to back double hundreds, and I said at the time that he was the most impressive 22-year-old I had come across.
From that day I have kept an eye out for Graeme and caught up with him whenever our paths have crossed, so I took it upon myself to broach the subject of a move to Surrey while he was over here to captain South Africa against England in the summer.
My first opportunity to speak to Graeme came on the opening morning of the Oval Test on 19 July. He was walking back to the pavilion after going through his pre-match routines and I told him I wanted a five-minute chat with him at an appropriate time. I left it at that, because he had an important match to prepare for and it would not have been right to start chatting at length to him out in the middle.
We had another brief chat on the outfield during the second Test at Headingley and agreed to sit down away from the workplace at their team hotel in London before the final Test at Lord's.
I talked Graeme through our proposal, gave him my take on where Surrey are now and where we need to be, and told him I believed he could and would make a difference.
It soon became clear that Graeme was interested in what we had to offer, so the next step was to introduce him to our team director Chris Adams and chairman Richard Thompson.
The opportunity arose after the one-day series in September when Graeme was spending some time with his wife's family in Ireland.
We flew out to Cork and had a very positive meeting in which Graeme said everything I hoped he would say. He listened very well to Chris's vision for the cricketing side of the club, asked good questions and talked about his style of leadership and goals.
It was clear to everyone that there was a perfect fit and it was then just a question of finalising the details of the contract. This turned out to be a remarkably simple process in comparison to some of the negotiations that have taken place with far lesser players, and Chris and Graeme's advisors should take great credit for the way everything was dealt with.
Graeme will be with us for a minimum of three years and with the exception of the ICC Champions Trophy in England next June, South Africa's relatively light summer schedules mean he should be spending the bulk of his time with us during the English season.
We were absolutely delighted that Graeme shared our desire for this to be a long-term deal because were not looking for just a short-term fix. We were looking for a true leader to bring stability and success to the club and I know we now have the right man to lead the team out on the field.
For his part, Graeme wants to stamp his mark on the squad and leave a successful legacy. I am quietly confident that in three years' time we will be looking back on the impact he has had and the huge part he will have played in bringing success back to The Kia Oval on a regular basis.