India v England: Virat Kohli - the new Sachin Tendulkar?
By Chris Jones
BBC Radio 5 live
Last updated on .From the section Cricket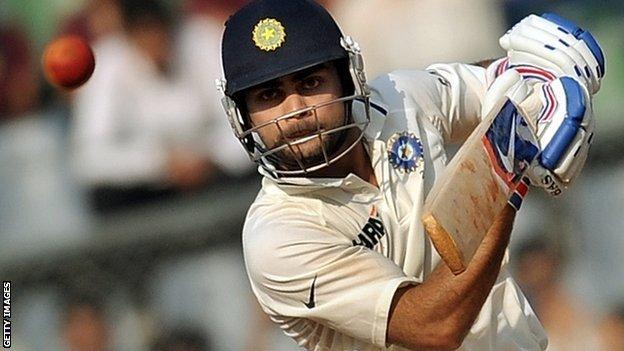 It's almost 12 years since India beat Australia in Kolkata in a Test match voted the greatest of all time.
A week later in Chennai, the batsmen again dominated, with Sachin Tendulkar making a magnificent hundred as India won to secure a series triumph - one of the most famous in their history.
But - inevitably - that imposing and much-vaunted top-order has disbanded. Captain Sourav Ganguly is long-retired from international cricket, and even though Tendulkar is still playing Test matches, Dravid has recently called time on his career - as has Laxman.
Meanwhile, the likes of Virender Sehwag, Gautam Gambhir and Yuvraj Singh, instrumental in leading India to number one in the Test rankings and to World Cup glory in 2011, are in their 30s.
It is therefore left to the likes of Virat Kohli to lead India into a new era. And it is something he is more than ready for.
"Definitely. Me and the youngsters in the team have to step up at some point in time," the 24-year-old told BBC Sport. "That transition has to happen at some point. We need to be prepared and ready to take those challenges and face those tough situations."
Kohli's form of late has been exceptional. He averages more than 50 in one-day-internationals while, after a tough introduction to Test cricket, he has scored two hundreds and three half-centuries in his last four matches. In the recent World T20 he hit a match-winning 78 not out against Pakistan in the Super Eights.
The great former Indian opener Sunil Gavaskar believes he is the "future of Indian batting", while team-mate Ravichandran Ashwin says Kohli has already established himself as one of India's key players.
"He's been the main batsman for us over the last two years, he's been doing it time and again," Ashwin told BBC Sport. "He's hit a purple patch early in his career and I hope he goes on like this for another five or six years."
South Africa coach Gary Kirsten watched Kohli progress when he was in charge of India, and says he has developed into one of the leading players on the international circuit.
"He has worked a lot on his game and is a stand-out batsman in world cricket today," said Kirsten. "He is one of those cricketers with an X-factor who doesn't get himself out."
As a result of his thrilling stroke-play and immense confidence, Kohli has gradually started to replace Tendulkar as the face of Indian cricket. He has a plethora of sponsorship deals, is the subject of numerous television promotions, and adorns billboards across Asia.
"This is something that I live for," he continued.
"You want to be the one who people expect things out of. You don't want to be someone who is just a part of the side. I've always felt I want to be that important batsman in the team."
But how does he cope with the immense pressure of trying to emulate legends such as Tendulkar and Dravid, especially given the expectation in a cricket-obsessed country like India?
"Now that people expect things from me, I take that more as a pride kind of a thing rather than pressure," said the right-hander.
Furthermore, he believes the pressure inspires him to perform.
"I try to put all that confidence [people have in me] into the field," he said. "I'm glad that it's working for me and I hopefully I can be as consistent as possible."
However, Kohli's short international career has not been without controversy. In the second Test in Sydney last December he was fined half of his match fee for swearing at Australian supporters, and he was also criticised for his exuberant celebration after scoring his maiden Test century later in the series in Adelaide.
"What surprises people and makes him stand out is that unlike Indian players in the past he outwardly cares and can be hostile," Australia fast bowler Dirk Nannes, who played alongside Kohli for Royal Challengers Bangalore in the Indian Premier League, told BBC Sport.
"He is someone that if you fire at him, he'll fire at you back. He's not afraid to get in a fight on a cricket pitch - and I think this helps him perform. He relishes the challenge - it gets him in the game more - and it makes him a better player.
"He is a superstar. If he concentrates on his cricket he can be as good as anyone."
And as England prepare for the first Test match in Ahmedabad, Kohli has targeted the series as the perfect opportunity to further showcase his quality.
"It's very important," he concluded. "It's always good to score against challenging teams. It's a really good test for them coming to India and we're surely going to come hard at them."
"I want to improve every day as a cricketer and fill in the shoes of the greats of Indian cricket. Even if we can achieve 60 or 70 per cent of what they [Tendulkar, Dravid and Laxman] achieved it will be really good for the team."
England be warned.