Guernsey to unveil first director of cricket next month
Last updated on .From the section Cricket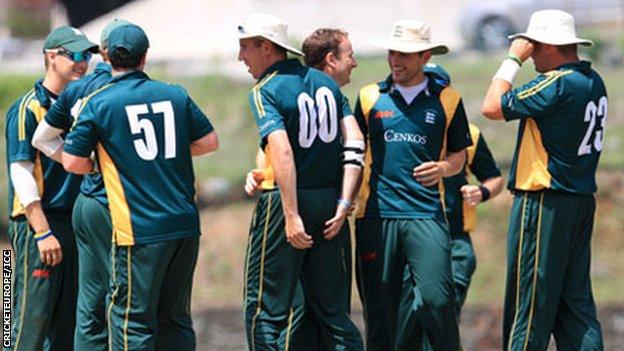 The Guernsey Cricket Board plan to reveal the island's first director of cricket next month.
They have been interviewing candidates from four countries to succeed Andy Cornford,
"It's a big leap for us in terms of a full-time cricket-specific coach," said chief executive Mark Latter.
"It's a big appointment and one we must get 100% correct for the future of Guernsey cricket."
Interviews have been taking place this week in the UK after about 40 candidates from across the UK, South Africa, Australia and New Zealand applied for the role.
"The cv's were magnificent and well beyond what we hoped for," Latter told BBC Guernsey.
"Perhaps we are a little bit shy of the fact that Guernsey cricket has a good name worldwide.
"People like Guernsey and what they see in Guernsey cricket, which is quite flattering."
The island is an associate member of the International Cricket Council and the senior team
He added: "It is a big job in terms of the scope of it, but it's also a huge job for Guernsey cricket in making sure we're fit for purpose on and off the field to challenge for honours in World Cricket League and beyond."
The board hope to make an appointment in the last week of November and announce the successful candidate early next month, prior to them taking up the role in the new year.