Stephen Peters says Northants' tour will be beneficial
Last updated on .From the section Cricket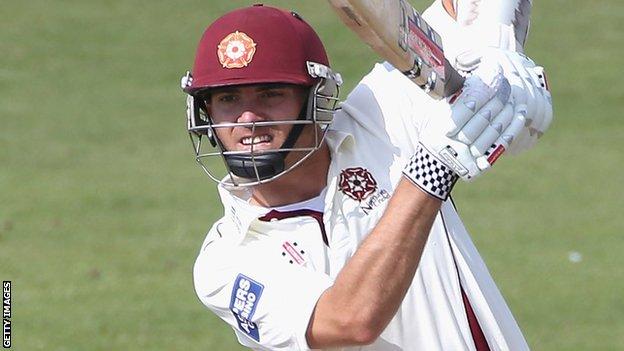 Northants captain Stephen Peters says going on a pre-season tour will give them a noticeable advantage in 2013.
The first-team squad will play against other English counties and the Barbados national team in two-day fixtures, a 40-over match and a T20 tournament.
Peters told BBC Radio Northampton: "On tour [to South Africa] two years ago, we didn't win a game, but then we went unbeaten [for 12 games].
"We're at a disadvantage if we start the season and we haven't been away."
He added: "It's more valuable than seven or eight sessions back home. [Although] it doesn't mean you'll come back and do what we did two years ago."
Northants opted against a tour last season and ended the campaign with just four wins from all competitions.
The trip, which sees the squad head to the Caribbean on 11 March and return 12 days later, is being paid for by the club, the Northants Supporters Club and the players themselves.
"I really hope it shows the supporters the commitment in our dressing room about getting things right and having the best preparation," said Peters.
Northants head coach David Ripley said: "Once again there will be an early start to the season, which means it is crucially important that the lads can get as much cricket as possible before.
"With uncertain weather conditions in March, sometimes outdoor practice can be limited if staying in England.
"I also think it is forward thinking of the club to allow us this opportunity, which will stand us in good stead leading into the 2013 season."
Peters was made the club's captain after Andrew Hall stepped down from the role. Alex Wakely will be the vice-captain and one-day cricket captain.
"Andrew came and shook my hand and I made it clear to him that he's certainly in my plans," said Peters.
"Having played with him a long time, and having great respect for him as a player, he'll be a vital part of our team over the next couple of years.
"Alex did so well in the Twenty20 competition with the captaincy. It's absolutely right he does the one-day comps, as much as I'm hoping to be in the side more often next year."