India v England: Captain Alastair Cook set for toughest voyage
By Stephan Shemilt
BBC Sport
Last updated on .From the section Cricket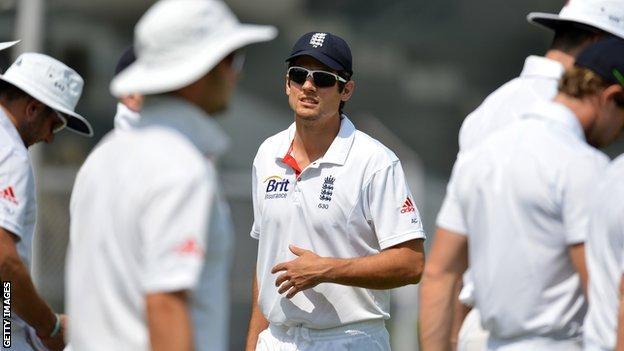 With Kevin Pietersen now successfully "reintegrated", it seems that a line can be drawn under the biggest crisis to hit the England team since the last Pietersen controversy.
Strauss was not an automatic choice because his Test career had looked in jeopardy a year earlier, but from the wreckage of the Pietersen-Moores debacle, he presided over one of the most successful periods in England's history.
Of course, Pietersen problems bookended Strauss's time as skipper but, when the Middlesex man ended his international career in September, there was - unlike three years previously - no hint of a question about who would be the successor.
The passing of power to Alastair Cook was the most predictable and seamless changing of an England captaincy in recent memory.
"A lot of credit has to go to the management team because they identified Cook as the next leader and promoted him gradually," former England pace bowler Steve Harmison told BBC Sport.
"Strauss never for one minute looked over his shoulder and worried about Cook, something that Nasser Hussain had a little of when Michael Vaughan was coming through."
Like Vaughan, Cook was made captain of the England one-day side on the back of a stellar Ashes series in Australia.
Before scoring 766 runs down under in the 2010-11 series, the Essex man had faced calls that he be dropped after going past 30 only once in his 10 previous Test innings.
That swift improvement would again be in evidence when the 27-year-old was made one-day skipper. At first criticised for being too defensive, Cook has taken England to the top of the world rankings.
Cook the batsman, who many thought would be unable to replicate his Test form in the shorter game, averages 47.30 as one-day skipper, while Cook the captain has become more aggressive, exploiting the two new balls with four seamers and attacking fields late into an innings.
"Tactically, he's very good and he leads from the front by the runs he scores," said Essex coach Paul Grayson.
"When he came to our pre-season nets at 15 or 16, you could see a lad who conducted himself in a very good manner at a very young age. My first impression was that he was a lot like Michael Vaughan.
"Every challenge that has been put in front of him so far he has risen to."
That may be the case, but Cook now faces the biggest test of his career. His first assignment since being appointed skipper is the trip to India, where England have not won a series since 1985.
If the weight of history was not enough, Cook must also arrest a run that has seen England win only three of 11 Tests since beating India 4-0 at home in 2010.
That result so scarred the Indians that they have begun their bid for revenge by starving the tourists of the chance to face high-quality spin bowling during the warm-up matches.
All this comes amid Pietersen's return and the fact that Cook will bat in the first Test in Ahmedabad with a new opening partner, the retirement of Strauss leaving a hole at the top of the order that the uncapped Nick Compton looks most likely to fill.
"When I heard about Strauss's retirement, the first thing that crossed my mind was not walking out to open the batting with him," said Cook. "It will be slightly strange.
"It's been a difficult two months for the England side, but for me as captain, the best possible outcome has happened because we have a world-class player [Pietersen] back in the team.
"It's been almost 30 years since we won in India, so that shows the challenge we have ahead, but I'm very confident in this squad that we can do something special."
And if England need inspiration to produce that "something special" in India, they need look no further than the exploits of their captain.
Six years ago, the 21-year-old Cook was summoned from the West Indies to make his Test debut in place of Marcus Trescothick. He responded with a century.
"He came in as a young boy and straight away you knew he was in line to be an England captain because of his calmness - and so it proved," said Harmison, who was part of the England team in Nagpur.
"I'd liken him to South Africa captain Graeme Smith. A lot of people have had a go at his technique, but he knows his game and gets the best out of what he's got."
Cook's elevation to skipper may have been a natural progression, but the problems of winning on the subcontinent, managing Pietersen, bedding in a new opening partner and getting the results that would see England return to the top of the world rankings are just the beginning.
After the India trip, England face perhaps their biggest year of cricket ever, with the Champions Trophy on home soil a tiny hors d'oeuvres for the giant main course of back-to-back Ashes series.
But Harmison, who played under six different England skippers, predicts nothing but success for Cook, particularly as the new captain has Pietersen at his disposal.
"Now KP is back in the side, he will set records for Cook to break because Cook will be captain for as long as he wants to be," concluded the Durham bowler.
"Cook gets on well with everybody but also has authority, and having those attributes together will make him a good leader.
"He'll be one of the best captains in the international game."