Ed Cowan: Gloucestershire downbeat on Australian's return
Last updated on .From the section Cricket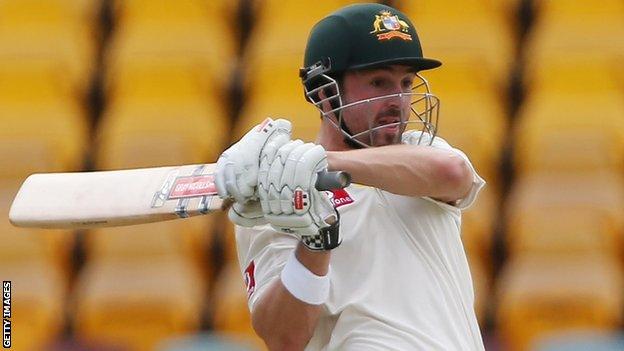 Gloucestershire director of cricket John Bracewell has admitted it is unlikely Ed Cowan will return as their overseas player next season.
But after hitting a maiden Test century against South Africa in Brisbane, they expect Cowan to be part of next summer's Ashes series in England.
"We're obviously thinking about plan B," Bracewell told BBC Gloucestershire.
"Him scoring 138 at the Gabba didn't help plan A."
Cowan, who made his Test debut last December, appeared in three County Championship matches for Gloucestershire last season, scoring 147 runs as they finished bottom of Division Two.
Bracewell had hoped Cowan would become captain following Alex Gidman's decision to step down from the role.
But he said: "We think we need a captain consistently though the season.
"Having someone miss eight-to-ten weeks of the season would be unfair on the players."
Bracewell confirmed negotiations with a replacement had already started and the player would be a "good fit" for the club.
"We are working hard to find a solution to that but it's difficult, mainly because of work permits. If you are eligible for a work permit then usually you are involved in international cricket," he added.
"We have a couple of options up our sleeves, which we are thinking seriously about."