India v England: Jonathan Agnew column

By Jonathan Agnew
BBC cricket correspondent in Ahmedabad
Last updated on .From the section Cricket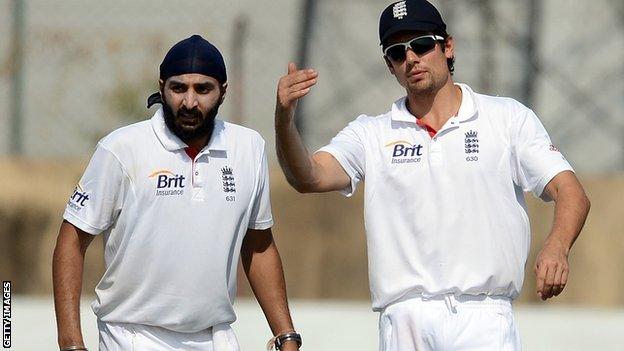 There was much debate going into the first Test about what team England should pick, particularly on whether or not room could be found for a second frontline spinner in Monty Panesar.
It was always likely that the seamers would be ineffective on what is a very dry, very slow pitch and it seems to be a valid argument that Panesar should have played, probably instead of Tim Bresnan.
England will counter that by saying that they created chances - four of which were missed - with the most expensive coming when Cheteshwar Pujara's leading edge was misjudged by James Anderson.
So, even though it looks like two spinners would not have been a bad move, England still created opportunities that weren't taken, which has been a theme of their decline over the past couple of months.
Naturally, some may look at Alastair Cook for that selection decision on what is his first day as the new Test captain, but it would not have been entirely his call, with the coaches also having a say.
I thought he did a lot of things right, but, with the attack that he had, he was almost captaining with one hand behind his back.
This is something that England tend to do, opting for safety first with the extra batsman, especially early in the series, then, if they slip behind, they might be more adventurous with the bowling attack.
If they don't win here, then I suspect Panesar would become a far more likely selection for the second Test.
The tourists also suffered because their three seamers were expensive. While Graeme Swann was bowling very well at one end, the pacemen were haemorrhaging runs at the other end, which released the pressure.
However, that is to take nothing away from the way India played, and I loved watching Pujara bat.
The tall, wristy right-hander has a rock solid defence but also plays his shots, showing a lot of confidence for a young man who hasn't played much Test cricket.
One thing that I really liked was how he drove the last ball of the day off Anderson for four, as if to say "I'll see you tomorrow for my hundred".
Before Pujara's knock, Virender Sehwag was extremely difficult to bowl at, mercilessly punishing any width outside off stump.
The blazing opener is one of the most entertaining batsmen in the world and with him scoring a first Test hundred for two years it's good to see him back in form.
I suppose the one disappointment from an Indian point of view would be Sachin Tendulkar, whose dismissal was the big surprise of the day.
People are talking about how much longer he might have in the game, so for him to make such an error of judgement and be caught at deep midwicket was quite something.
Just a couple of balls before he had hit Swann through midwicket for four but, when the man went back, he hit it straight down his throat and departed to stunned silence.