India v England: Jonathan Agnew column

By Jonathan Agnew
BBC cricket correspondent in Ahmedabad
Last updated on .From the section Cricket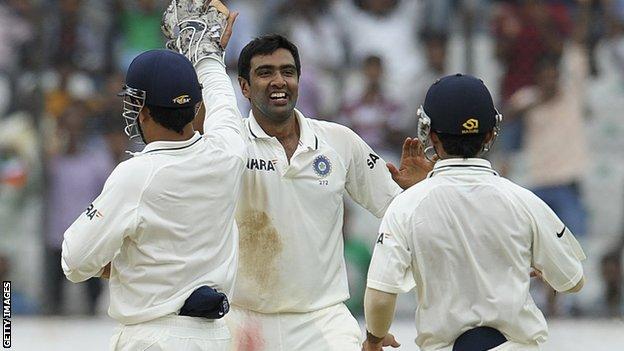 The three wickets lost in three overs late on the second day of the first Test against India were calamitous for England.
Up to that point, Alastair Cook and Nick Compton had actually looked pretty sound. Compton batted well, but for him to get bowled through the gate by the off-spin of Ravichandran Ashwin was a technical mistake and one he will be disappointed with.
As first Test innings go, it was a tough ask for Compton, who had to deal with the spinning ball and fielders around the bat. He was, however, playing well enough for his dismissal to come as a surprise.
After that, England must take some blame for sending James Anderson out as night-watchman - simply because it was too long for him to survive.
Twenty minutes or so is long enough if conditions are benign but, with the ball turning, wickets can fall in clusters - which is exactly what happened.
Anderson's dismissal gave India momentum, and they followed that up by getting Jonathan Trott to leave England with a huge task just to avoid the follow-on.
That first target of 322 seems a country mile away, but they have got to get their heads down and show the discipline and technique needed to score runs in this part of the world.
What Kevin Pietersen does on day three will be interesting because he will attack, which may or may not be a good ploy.
He was given an easy ride by only having to face Yuvraj Singh when he came in, which was perhaps a mistake by India captain Mahendra Dhoni, who had earlier done well with his declaration.
It was good, positive captaincy to call his batsmen in when he did, which was certainly earlier than I thought he might. It gave England the task of surviving 18 overs - one they were not up to - and came at the end of a day when they had chased leather.
Graeme Swann was again the most effective bowler, with the amount that Samit Patel was used perhaps an admission from England that they had got their selection wrong.
The three pace bowlers were tidier than on the first day, but they were still ineffective - particularly the sparsely-used Tim Bresnan.
The Yorkshireman was picked in the hope that he would find some reverse swing, but the lush, green outfield prevented the ball from scuffing up enough to reverse.
The lack of any assistance may have sucked the enthusiasm out of England and twice during the day they were beaten back on to the field by India's batsmen.
Both at the start of play and after tea, the batsmen were well on their way before England appeared from the dressing room.
Frankly, it didn't look very good - giving the impression that England did not want to go out and play.