India v England: Jonathan Agnew column

By Jonathan Agnew
BBC cricket correspondent in Ahmedabad
Last updated on .From the section Cricket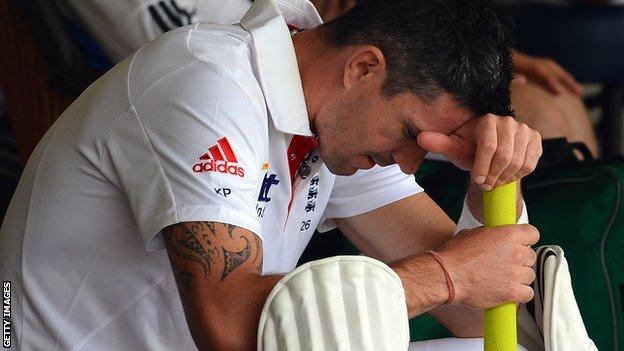 The third day of the first Test between India and England was remarkable.
Of course, they were not helped by the fact that they were three wickets down overnight and that was compounded by the frenetic start made by Kevin Pietersen.
He could have been run out from silly point, bowled around his legs and stumped, which made you feel sorry for the next man in, Ian Bell.
However, that does not excuse the appalling shot Bell played, which can only be described as a psychological mistake.
He came charging down the track first ball to try to hit Pragyan Ojha back over his head and was caught at deep mid-off. It was not even the stroke a number 11 would play.
It suggests that Bell still carries mental scarring from the UAE, when he had a very poor series against Pakistan and, coupled with watching Pietersen go all through that torture, it got in his head.
Bell will have another chance in this match, but he is missing the second Test to attend the birth of his child, so, if his replacement gets runs there is a chance he will not get back in the side.
Questions must be asked when a frontline batsman plays a shot like that, but he has got the opportunity to show that was just an aberration.
After Bell's dismissal, England's first innings descended into something of a rout, with Samit Patel, Tim Bresnan and the ever-reliable Matt Prior the only men to apply themselves.
That little bit of resistance at the end of England's innings must have eased the anxiety in the England camp, helping Alastair Cook and Nick Compton to play so calmly in the second innings.
The fact they batted in such a controlled, disciplined manner showed how much easier batting becomes if you apply yourself.
In doing so, they exposed the failings of the first innings, because the conditions are not unplayable and the bowling not impossible.
England could still lose inside four days, and the odds are that they will lose the match at some stage, but Cook and Compton have shown the others that it's perfectly possible to make runs.
For England to escape, it would probably require three batsmen to score centuries because they are such a long way behind and there is so much time left in the game.
But, you never know, it could turn out to be like the Brisbane Test during the last Ashes, when they pulled off a remarkable draw.
If England do go on to lose, it's absolutely crucial in the context of the series that the tourists put up a fight in this second innings. If they fall over in a heap twice it would get the tour off to a terrible start.
Even if they are defeated, which they probably will be, if they manage to stretch India and maybe take the game into the fifth day then they will show that are not going to be pushovers.
If they were wiped away again today, then you would have to fear about how England will go in the rest of the series.