Sussex: Dave Brooks says fixing approach a 'one-off'
Last updated on .From the section Cricket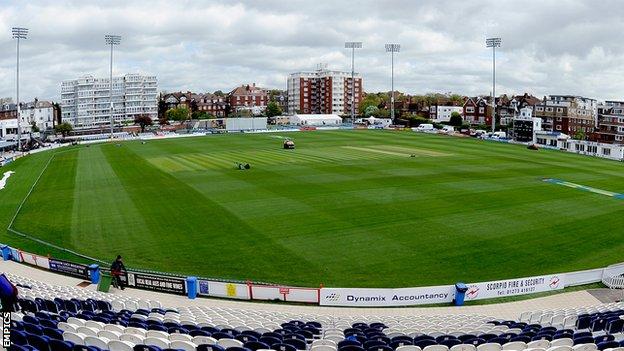 Sussex chief executive Dave Brooks says an approach to their players to fix a match in 2011 was a one-off.
He told BBC Sussex: "The players were approached via phone. They turned down the approach, contacted the club and informed us of it.
"It's not something I've come across at Sussex in my time and we've had no reports since either."
He added: "I think you could probably count them [match-fixing approaches] on the fingers of one hand. I think it is incredibly rare.
"The report to us was immediately after the game.
"We then took formal statements from them and passed all that information on to the ECB [England and Wales Cricket Board] immediately.
"They took the investigation up from there.
"The matter was reported and properly investigated. There was nothing untoward to report."
The one-day game, which Kent won by 14 runs, is mentioned in a newly-published book about corruption in cricket by author Ed Hawkins entitled 'Bookie Gambler Fixer Spy: A Journey to the Corrupt Heart of Cricket's Underworld'.
"Once we were aware the item was going to be contained in the book, we felt it was important to give the official side of the story," Brooks said.
"[That was] so that people knew neither the players, the club or indeed the sport had anything to hide.
"Corruption in cricket has been in the news at varying times over the years, with the spot-fixing issues in the Pakistan Test match in 2010.
"As a club, we were fully aware of our responsibilities.
"Sport is about integrity. People need to know all the players are on a level playing field.
"We have a responsibility to protect that."
The ECB warned last year that county cricket was at greater risk than international cricket of match-fixing and spot-fixing.
Essex pace bowler Mervyn Westfield was jailed for four months in February this year after admitting a corruption charge relating to a 2009 game against Durham in the CB40 competition, while team-mate Danish Kaneria was banned for life by the ECB for corruption.
Brooks believes the current system of reporting illicit approaches is working.
"It's extremely important the players have the opportunity to make these reports safely and without having to feel there will be loads of speculation and unnecessary discussion around them," he said.
"We are aware televised games are the higher risk games and the policies and procedures of the ECB and the counties take that into account.
"The ECB have the anti-corruption unit and anti-corruption inspectors at all televised matches.
"That has been extremely beneficial in 2012 and I'm sure it will continue."