India v England: Jonathan Agnew column

By Jonathan Agnew
BBC cricket correspondent in Ahmedabad
Last updated on .From the section Cricket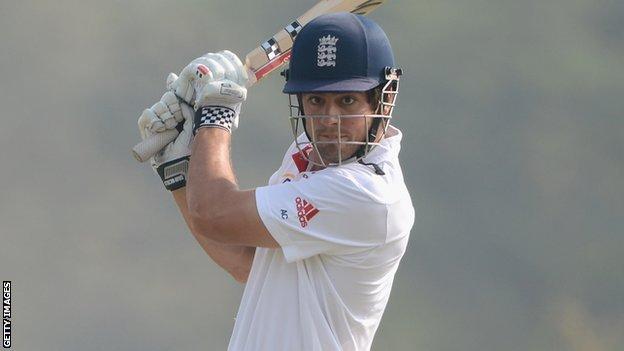 I am running out of superlatives with which to describe Alastair Cook.
Even though he has made so many runs as skipper of the one-day side, there was obviously a worry that taking on the job of full-time Test captain would affect his batting.
But the way he has begun his reign is utterly remarkable, leading from the front in his own quiet, undemonstrative way.
As he walked off in Ahmedabad, having batted all day to give England hope of saving this Test, he still looked as fresh as a daisy. It was as though he was emerging from, not heading back, to the pavilion.
Cook was brilliantly accompanied by Matt Prior, who is one of England's great unsung heroes and a seriously good cricketer.
Prior faced significantly more deliveries in their unbroken stand of 141, taking a lot of responsibility in the final session when Cook may have been tiring a little.
England's sixth-wicket pair were aided by the fact that this was a poor day for India's spinners. Ravichandran Ashwin has gone 52 overs in the match since his last wicket and both he and Pragyan Ojha bowled too short.
Anyone who thinks that the India duo are better than Graeme Swann and Monty Panesar should need no further proof - they are not. The difference is the batting line-ups that they are up against.
India's batsmen have shown that they are very skilful players of spin, whereas England, with a couple of notable exceptions, have come up short.
Too many of England's players do not follows the basics; get in, take time, bat for half an hour to get yourself accustomed to the conditions. If you do that, the game becomes much easier, as Cook, Prior and Nick Compton, who impressed late on the third evening, have done.
The patience they have shown has to be rammed in to the others, particularly Kevin Pietersen, who at the moment is thoroughly inpatient.
On day four, he played a premeditated sweep and was bowled by Ojha. He says he hasn't got an issue against left-arm spin, but I'm afraid that I have to draw a different conclusion.
I'm sure there is a big innings to come from him in this series, but I don't know if that will come with Pietersen batting the way he is at the moment.
As it is, Pietersen can no longer affect the result of this match, at least not with the bat, and he must watch on as Cook, Prior and the lower order attempt to build as big a lead as possible on the final day.
In a funny sort of way, a drawn game could actually be something of a long shot. Of course India are favourites to win, but if England can score another 150 runs or so, which is not impossible, then we really will have a game on.
If Cook and Prior are still together at lunch, then it will put some pressure on India, because chasing a small target on a worn, fifth-day pitch is always nasty.
England won't get carried away, because they know they have still got a lot to do to make up for that disastrous first innings.
But, despite the fact that England were so far behind, Cook and Prior have ensured that we could yet be in for a remarkable final day's cricket.