India v England: Naive England must learn fast - Alec Stewart

By Alec Stewart
Former England captain
Last updated on .From the section Cricket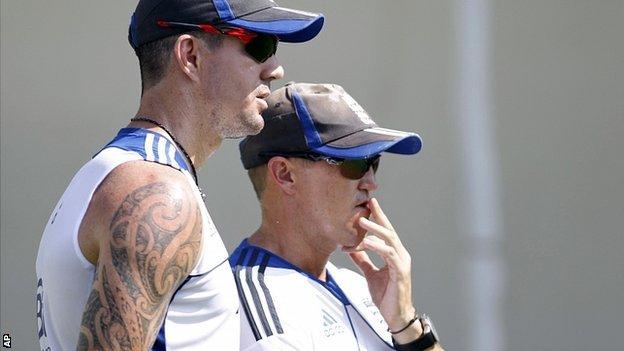 Everyone, from the players and management through to the supporters, knew it was going to be a tough tour for England in India and the first Test has proved exactly that.
After winning a crucial toss, India out-batted, out-bowled and out-fielded England to and go 1-0 up in the series.
England's biggest failing was their first innings batting display. In six Tests in Asia this year, they have only made more than 200 runs in their first innings on two occasions and you will not win many Test matches with a record like that.
England can't guarantee that they will win the toss in the second Test, in Mumbai, but what they can do is make sure they bat much better, whether they get first or second use of the pitch.
Were England's batsman naive in the first Test? I would suggest they probably were, and the top seven must take greater responsibility for ensuring the team posts a big total.
Not everyone plays the same way - Alastair Cook likes to construct an innings at his own tempo in his own style, while others will try to dominate the Indian bowlers - but whatever method is used, the individuals within that England batting line-up have got to make sure that they know exactly how they're going to play, how they're going to score, and how they're going to stay at the crease.
In a way, it's not a bad thing that the second Test is starting so soon - it's the old adage of "if you fall off the horse, you get straight back on it". They'll travel on Tuesday, have meetings and practice on Wednesday and Thursday, and then get out in the middle and start all over again on Friday.
But they cannot just brush this heavy loss under the carpet - you always have to look back, review and reflect, both in victory and in defeat.
There's no point hiding the harsh facts and just saying everything's fine and it was just a blip, you've got to be brutally honest and try to do something about it.
There are a lot of good cricketers in that England team, but in truth only three players really performed in this first Test match - Cook, Matt Prior and Graeme Swann. Very rarely do you win a Test match when only three people put in what I'd call international class performances.
The others know they need to play much, much better than they did in the first Test match. There's obviously going to be much media and public scrutiny and speculation, but the players have got to try and ignore all that, stay as a tight-knit group, back each other, discuss things and make sure their thought processes and skills are delivered at the level that is expected from a team of the quality of England.
England have a tremendous backroom staff led by Andy Flower, with Graham Gooch, David Saker and Richard Halsall to support, but they can only prepare the lads for what lies ahead. Once the players cross the white line, it's down to them and that is where from a coach and a manager's point of view, it can be very frustrating. You can only sit, watch and hope that the players produce.
I would definitely expect one or two changes for the second Test. In the batting, I expect Jonny Bairstow will get the nod over Eoin Morgan to replace Ian Bell, who is heading home for the birth of his first child. I also think Samit Patel will keep his place because he was unlucky with two questionable lbw decisions.
As for the bowlers, I would be staggered if Monty Panesar doesn't play instead of Tim Bresnan, given the likelihood that the pitch in Mumbai will be another slow turner.
Assuming England stick with a four-man attack, the other question will be whether they bring back Steven Finn, who missed the first Test through injury. He looked very effective on Indian wickets in the one-day series last year, but has he bowled enough to prove his fitness to be used in a two-man seam attack?
If the selectors do pick Finn then Stuart Broad would probably be the other bowler to make way. Broad is vice-captain, but that does not make him untouchable. You have to pick the best side to win a game.