India v England: Home press greet 'revenge' victory with jubilation
Last updated on .From the section Cricket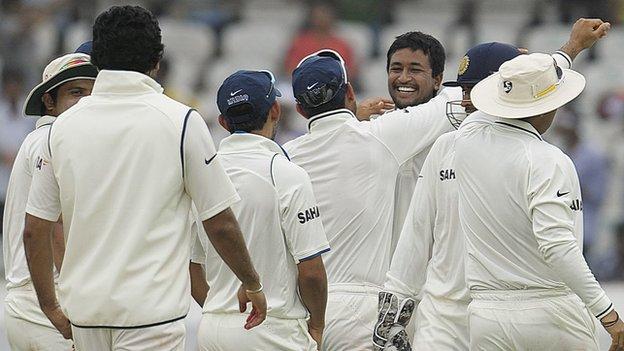 India's victory over England in the first Test has been greeted with jubilation in the host nation.
The nine wicket victory in Ahmedabad was seen as a measure of retribution for a country still smarting from the 4-0 thrashing of last year's series in England.
The word "revenge" peppered most match reports.
Here the BBC looks at how the result was received by the Indian press.
India dominant
Man of the match Cheteshwar Pujara was widely acclaimed for his double century in the first innings, but it was the Indian attack which was seen as the key to victory. Speaking to journalists, skipper Mahendra Singh Dhoni hailed the "fantastic effort" of his bowlers.
Spinner Pragyan Ojha received plaudits for his dismissal of Matt Prior and skipper Alastair Cook, whose 157-run partnership on the sixth wicket offered England the faintest glimmer of hope on day four.
Cook's ousting was, in the words of the Navbharat Times, the "end of England's struggle."
India Today said that Ojha was "spinning his way from the fringes to the spotlight" with his Test performance so far.
England's "Captain cool"
Cook was the only visitor to make any impression, with several papers paying tribute to a "stoical" 168-run innings.
The Hindustan Times dubbed him "Captain cool," while the Indian Express noted that he "wasn't playing any differently from the way he normally does. He didn't follow any subcontinent-specific mantra to tackle spin. He trusted in his ability, and worked out a way to make runs under the given circumstances."
Hindi-language Amar Ujala said that Cook had forced India to "dance to his tune," adding that he will be "dangerous in the remainder of the series."
Onwards to Mumbai
Looking forward to the second Test, the India Express spotted a potential shortfall in the hosts' attack: "It would seem an unlikely time to talk about fast bowlers, considering Indian spinners accounted for eight of the ten English wickets in the first innings on day two.
"However, the rest of the same day's play, when the Indian spinners toiled for no reward, made a case for the pacemen," the paper said.
"The problem though, is that if one of the front-line pacers gets injured, India will have a difficult time finding a replacement," it added.
England's performance was generally viewed as lacklustre, with India Today pondering whether the visitors will "show more spine in the other matches".
Regarding England's decision to play three fast bowlers at the expense of Monty Panesar, Pujara said: "I think it was the right decision. They have a very good bowling attack. You can say this was one off day for them."