England v India: Graham Onions on bouncing back in Mumbai
Last updated on .From the section Cricket

In the second of his new regular BBC Sport columns, England fast bowler Graham Onions talks about the inquest into the first Test defeat, Kevin Pietersen's reintegration and finding out about Ian Bell's baby before the proud dad himself.
Losing the first Test in Ahmedabad was a bitter blow, especially after putting in so much preparation to ensure we started the series with at least a draw.
If we were going home now, having lost the series, the mood in the camp would be very low, but the beauty of back-to-back Tests is that you have a chance to put things right very quickly and the lads are already buzzing in anticipation of the second Test in Mumbai on Friday.
After the match on Monday, coach Andy Flower called a meeting at our hotel in the evening to talk things through.
It was a chance for us to celebrate the positives from the game - Alastair Cook's 176, Matt Prior's 91 and Graeme Swann's five-wicket haul - but also to start to analyse what we did wrong and how we could improve.
The atmosphere was very relaxed and informal as we chatted about our approach to batting and whether we can find a way of being more positive and scoring more freely without taking risks.
As a bowling unit, we talked about how we can stop them from scoring so quickly but also how we can take wickets on these flat, slow pitches.
I remember seeing Tim Bresnan's first ball bounce twice on the way through to the wicketkeeper and as a fast bowler that is probably one of the most demoralising things you can see.
But the wickets are no slower or more turgid than we expected and if you want to go down as one of the best bowlers in the world you have to learn to perform on these types of wickets.
Zaheer Khan offers a great example of how you can be successful out here. The way he holds his length with the new ball and the skills he has when it starts to reverse are amazing. I think we can learn a lot from watching him.
On a personal level, it was obviously bitterly disappointing to be told I wouldn't be playing in the first Test. Touring life when you are not playing can be hard because you spend a lot of time in the nets and a lot of time with your whites on mixing drinks and doing jobs for the team.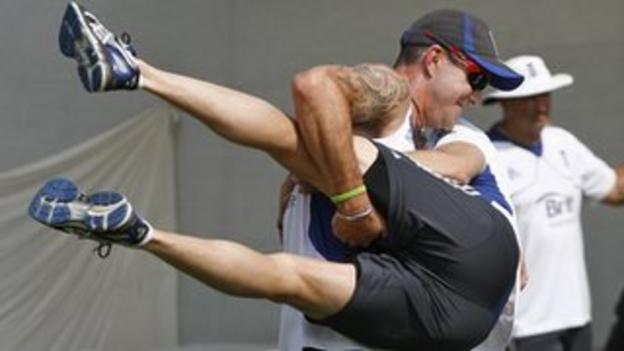 Nobody wants to be 12th or 13th man but you have to accept that your role is important because in these hot conditions the batsmen need cold towels and fresh gloves and the bowlers need fluids to stop them getting dehydrated.
Naturally I am feeling frustrated but once again, I just need to spend these next two days trying to prove to the captain and coach that I am good enough to play Test cricket and that I want to get into this side.
Steven Finn is another man feeling frustrated at the moment after his thigh injury ruled him out of the second Test. Losing him is a big blow to the side because I'm sure with his height and pace he would have taken wickets in these conditions, just as he did in the one-day series last year.
The problem with back-to-back Tests is that injuries do not have time to recover. I know from experience that to get over something like his injury you usually need a full two weeks' rest but Steven tried to push his leg to be fit for the second Test and unfortunately it hasn't worked for him.
I'm sure people back home will be wondering about Kevin Pietersen's return to the side but I can honestly say that it is as if he has never been away. He has been fantastic with the lads and is very much part of the group.
The best teams bounce back in style and we are all determined to do that in Mumbai.
LIFE ON TOUR
We're all delighted for Ian Bell on the birth of his son Joseph. Unfortunately he was in mid-air when a text came round from our team manager to say that Chantal had given birth to a baby boy so I think we found out before him!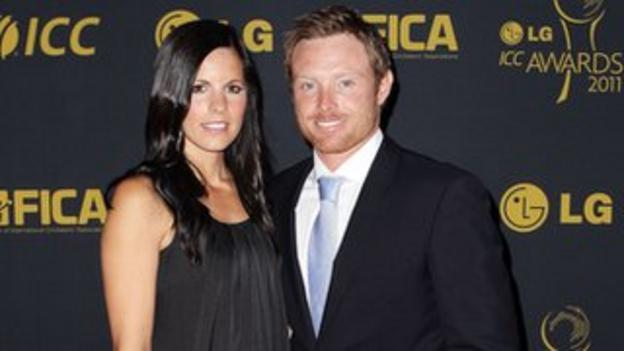 Belly's experience with the baby arriving 10 days early has got me worrying a bit because my wife Emma is due to give birth to our first child on New Year's Day. I'm due to fly home on 18 December so there shouldn't be a problem but the last thing on earth that I would want is to miss the birth. We're very privileged to come to these countries and do the job we do but you have to look after your family and no-one has a problem with people flying home to attend births or, as in Graeme Swann's case, to check on a child who is not very well.
After two weeks in the same hotel in Ahmedabad I think I'd had everything on the hotel menu at least twice so it's nice to have a change of scenery in Mumbai. Generally the food out here is great but I'm a bit of a fussy eater so occasionally I've been making do with beans on toast. Mind you, I've just had a fillet steak on room service, so life isn't too bad.
Graham Onions was talking to BBC Sport's Sam Sheringham