India v England: Follow Alastair Cook's example - Andy Flower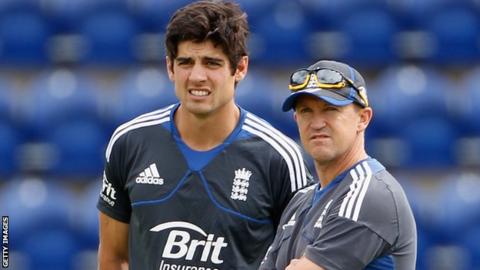 England coach Andy Flower has told his players to follow the example of captain Alastair Cook and "stand up" in the second Test against India.
England lost the first Test by nine wickets, but were encouraged by an improved second-innings total of 406 - which included a defiant 176 from Cook.
"Cook is a strong bloke and a very, very fine cricketer," said Flower.
"We need more of our men to stand up in the way that he did. There was a lot to be learned from watching him."
Cook's performance, in his first Test as permanent captain following the retirement of Andrew Strauss, was one of the few positives to take from the defeat in Ahmedabad.
England struggled to cope with the home side's spin bowlers in the first innings, before a sixth-wicket stand of 157 between Cook and Matt Prior showed their team-mates how to deal with the turning ball.
"I was obviously very impressed, along with the rest of the cricketing world that saw Cook play," added Flower.
"His was a lovely blend of concentration but also skill against the turning ball, and he played the reverse swing very comfortably.
"His decision-making, balance of risk and reward was excellent. "
The second Test begins in Mumbai on Friday.