Dave Piesing to step down as Guernsey Cricket Board chairman
Last updated on .From the section Cricket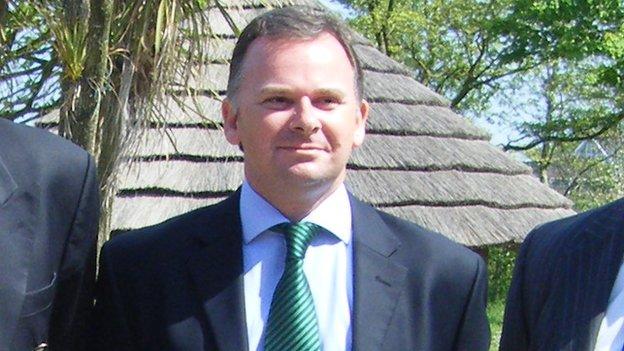 Dave Piesing is to step down as chairman of Guernsey's Cricket Board, with his deputy David Nussbaumer nominated to take his place.
Piesing will quit at next month's annual meeting due to work commitments.
"My already extensive overseas work travel commitments are now increasing even further," he said.
"I didn't feel that it was appropriate or feasible to try to continue leading the GCB as chairman when I will be absent so often from the island."
Piesing will stay on the GCB Board, represent the island at International Cricket Council meetings and chair the island's domestic cricket sub-committee.
"My travel commitments will not affect those roles, which are very different in nature from proactively trying to run the board as chairman.
"It is purely the leadership role which is becoming impossible for me to fulfil in the manner which I believe is vital going forward, when I will all too often be off-island in a far from ideal time zone to deal with any key issues in the right manner," he said.
His decision means Guernsey will have two new men at the top of the sport with the GCB after in September,
However, Piesing said Nussbaumer would be an "energetic new chairman" who would keep the board moving forward.
Guernsey having been accepted as a member of the ICC in 2005.
And Nussbaumer, who is a former chairman of the island's Football Association, in turn praised his predecessor for his work with the ICC.
"Without his efforts we may never have become an ICC member and be able to enjoy the fruits of their funding and the many competitive opportunities for our various island age-group sides," he said.
"We have got some terrific guys coming on board and while we have a big job on our hands I am very confident cricket has an even more exciting and rewarding future."
Meanwhile, Peter Vidamour and Jon Ravenscroft have also been nominated to join the board as directors.