India v England: Mumbai day two could end series, says Agnew

By Jonathan Agnew
BBC cricket correspondent in Mumbai
Last updated on .From the section Cricket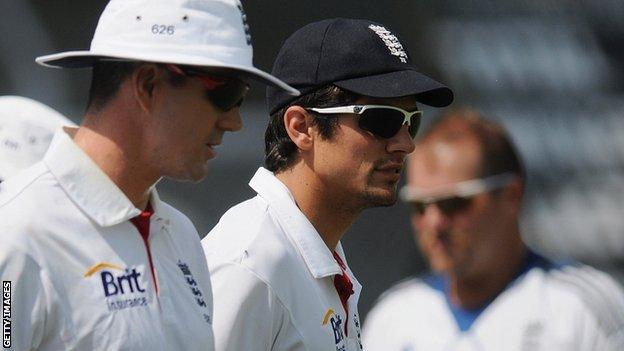 The first day of the second Test in Mumbai belonged to India.
With the home side having racked up 521-8 in the first Test, some may look at the score of 266-6 and think that England have done well.
But the reality is that, from having India 119-5, the tourists should have been looking to bowl them out for under 200.
In the dry, spinning, bouncy conditions that India captain Mahendra Singh Dhoni wanted, 250 is a good score. If India go on to score over 320, it could well be match-winning.
In truth, the ball is spinning more than it should on the first day of a Test - the pitch is simply too dry. However, I would rather be watching this match than the one going on in Adelaide between Australia and South Africa, where the bowlers are unable to compete with the batsmen because the wicket is too flat.
Because of the pitch, England will know they have got some serious batting to do, but they will also understand that if two batsmen get this heads down and make decent scores then they can still be in the game.
The problem is, you wonder who those two might be.
If England need an example, they should look no further than Cheteshwar Pujara, whose hundred here was an even better innings than his double century in the first Test. He offered a sharp chance to James Anderson in the gully but, apart from that, showed what great character he possesses.
For a 24-year-old playing in only his seventh Test the right-hander showed incredible maturity. It was an amazing innings.
Pujara was given outstanding support by Ravichandran Ashwin, who is a serious player to be batting down at number eight. Together, they put together a very dangerous partnership that looks like it could be taking the game India's way.
Ashwin came to the crease after Monty Panesar had removed Dhoni, a fourth wicket that the recalled left-armer deserved.
He looked understandably nervous at first, but got an early wicket that revived that trademark infectious enthusiasm.
As often happens when Panesar plays and takes wickets, Graeme Swann looked like he was straining to keep up with his spin-bowling partner, when really he should relax and enjoy the fact that Panesar bowls with such accuracy.
The off-spinner did, however, dismiss the only left-hander he had to bowl at - Yuvraj Singh - with the first delivery he sent down to him.
As for the seamers, Anderson bowled well with the new ball, while Stuart Broad can be excused for being a little wayward because he was so ill in the run-up to the match.
Ashwin was particularly harsh on Broad in the final session, and England will take solace from the fact a number eight came out and played such shots.
However, it is easy for a lower-order player to come out and play with freedom when there is a man with a century at the other end. England's biggest task is to find that centurion.
Some players might expect to get the odd unplayable ball, but they must sell their wickets as if their lives depended on it. They cannot make it any easier for the India bowlers.
In short, the tourists must wrap up the tail on day two, then bat as long as possible. If England have a bad day, the series will be gone.