Ricky Ponting fears for Ashes 2013 tour spot
Last updated on .From the section Cricket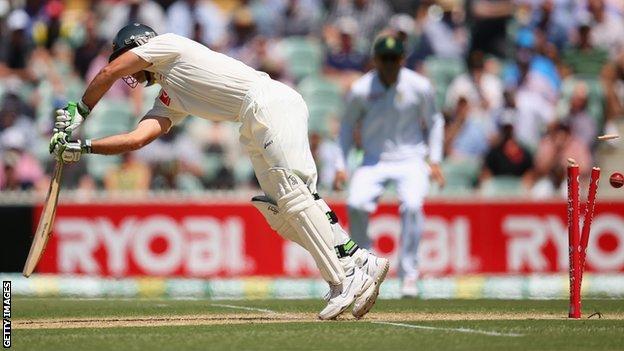 Australia batsman Ricky Ponting says he will miss out on the Ashes tour of England if his form does not improve.
"I live in the real world and I know that if I'm not making runs I might not see the summer out, so I definitely won't be in England," said Ponting.
"I've got no illusions or disillusions about where I'm at, or where my cricket's at."
Ponting impressed for state side Tasmania before the series against the Proteas, registering successive first-class scores of 85 not out, 162 not out and 60 not out in the Sheffield Shield.
But the former captain has failed to transfer that form to the Test arena and in the first innings of the second Test in Adelaide, ended up lying flat on the wicket after being bowled by Jacques Kallis.
"I felt like I got a pretty good ball," said Ponting, who has scored an Australia record 13,366 runs in 167 Tests.
"The disappointing thing with me in this Test series is that coming in I felt really good.
"My Sheffield Shield stuff was really good and I felt like I was batting better than I had in a few years."
Ponting has been the losing captain on his last two Ashes tours, while a visit to England in 2013 would be the fifth time he had made the trip for the Baggy Greens.
"I haven't spoken to selectors about my immediate future and they haven't spoken to me about it either.
"I am sure that conversation is going to come in the near future."
Australia are closing in on victory over South Africa in Adelaide, with the Proteas closing day four on 77-4 in pursuit of an unlikely target of 430.
Success would give the Aussies a 1-0 lead in the three-match series, meaning South Africa would have to win the final match in Perth to avoid being replaced by Michael Clarke's men at the top of the world rankings.