India v England: Kevin Pietersen backs Alastair Cook to set record
Last updated on .From the section Cricket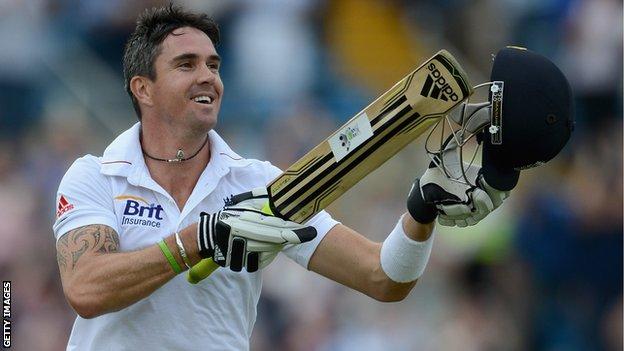 Kevin Pietersen has backed captain Alastair Cook to set an insurmountable number of Test hundreds for England.
They both moved to 22 Test hundreds, a record-equalling total for England.
"Alastair Cook will comfortably surpass any hundred [total] that anybody else who plays for England [gets]," Pietersen told BBC Sport.
"He is a super player, he is a super guy. He should go on to score thousands and thousands more runs."
Asked if Cook could be top of the list and never be beaten, Pietersen said: "He should be, he definitely should.
"He's only 27. He's a young pup, he is fit. He has a great head. He is very calm and nobody should beat him."
Pietersen, playing in his second Test since he returned to the England fold after being dropped in August for sending "provocative" text messages to South Africa players, seemed much more calm than in the first Test defeat against India when he only managed 19 runs.
But while the 32-year-old batsman was delighted with his 22nd Test hundred, he insists it will only be worthwhile if England get over the line against India on Monday.
"It is really nice to get a hundred for England. [It] will mean a lot more if we get the win on Monday. It is a great feeling," he said.
"Any Test match hundred that you end up being on the winning side, is a lot better than being on the losing side."
Pietersen, who was unhappy with dressing room relations in August, now insists there is a great spirit among the England players as they look to bounce back from the first Test defeat in Ahmedabad.
"The dressing room is absolutely fantastic," he said.
"We're sticking together really well, all helping each other out - and not letting things get on top of us.
"If anybody is going through a rough time, everybody else is right behind them.
"It's a very united dressing room at the moment, and it will be even more so if we manage to pull off a brilliant victory on Monday."
England, who lost by nine wickets in the first Test, can now contemplate the possibility of a series victory.
"We've come here to try and win and want to 'front up' to the challenge," Pietersen added.
"The captain asked that of us, especially before this second Test match, and some of the guys are really going a long way to win us this one tomorrow."