India v England: Jonathan Agnew column

By Jonathan Agnew
BBC cricket correspondent in Mumbai
Last updated on .From the section Cricket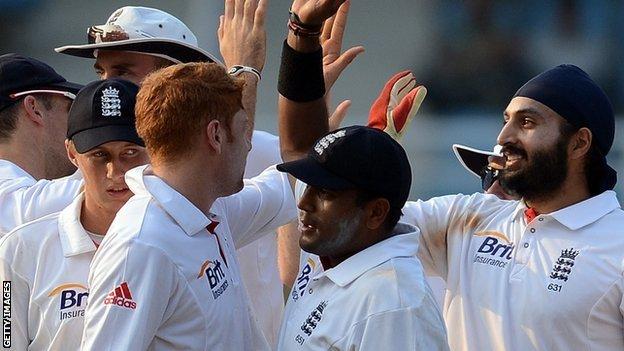 The third day of the second Test in Mumbai was one of the most remarkable days of cricket you could ever see.
The entertainment and drama not only came from the volume of runs scored and wickets taken, but also the way England entirely outplayed India to leave themselves tantalisingly poised to level the series.
It started with the batting of Alastair Cook and Kevin Pietersen, two fine batsmen playing contrasting innings. Cook built the platform, then Pietersen took the game away from the hosts.
The ups and downs of Pietersen's year have been well documented, but that was, quite simply, the best I have seen him play.
He played some wonderful shots. However, we are used to Pietersen dazzling us with his strokeplay. What was more significant here was the patience and confidence he showed after his nightmare in the first Test in Ahmedabad.
The Surrey right-hander played a wonderful range of strokes in a virtually risk-free manner. He deserved a double hundred and it's a shame he didn't get one.
One milestone that both he and Cook did register though, was their 22nd Test hundreds, equalling the England record held by Colin Cowdrey, Geoffrey Boycott and Wally Hammond.
It's been over 30 years since Boycott joined Hammond and Cowdrey on 22, so that tells you all you need to know about how great an achievement it is.
When you think of all the great players to have represented England in that time; Graham Gooch, David Gower, Graham Thorpe and Michael Vaughan, to name just a few, then it highlights what superb players Cook and Pietersen must be.
Taking nothing away from the England pair, it should be noted that they were helped by some poor India bowling.
Time and again, their spinners bowled both too slowly and too short. Speaking to a number of Indian observers, including Test Match Special's own Rahul Dravid, there is common agreement that England have bowled them off the park.
On this third evening, Monty Panesar and Graeme Swann tore through the India top order, turning England's decent first-innings lead into a match-winning one.
Panesar bowls quicker than most spinners, which makes him more dangerous on helpful surfaces such as these. He found turn and bounce, doing a really fine job.
At the other end, Swann got an early wicket, which was good because in the first innings I felt he was straining a little when the breakthrough didn't come.
Despite how well England bowled, India must be concerned about how easily their top order rolled over.
Cheteshwar Pujara has previously been immovable and Virender Sehwag got a hundred in the first Test, but they have a number of players out of form, with Sachin Tendulkar being an example.
He arrived to a rousing reception but left to stunned silence after playing across a straight Panesar delivery to be trapped lbw. Who knows what the future holds for him?
The same can be said for Virat Kohli, who, just like in the first innings, gave away his wicket in lazy fashion.
Of course, India's problems are emphasised by the fact that England are playing so much better in conditions in which the home side were expected to dominate.
Mahendra Singh Dhoni made no secret of his desire to have spin-friendly wickets, so where can he turn if England wrap up this win?
That is a question for another day. For now, we can reflect on a brilliant day that has left England on the brink of a memorable victory.