India v England: Panesar praised by skipper Mahendra Singh Dhoni
Last updated on .From the section Cricket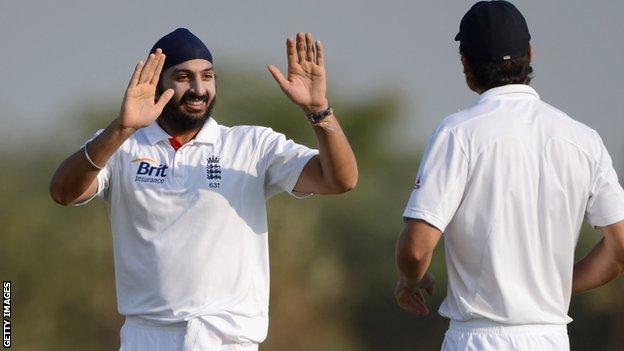 India captain Mahendra Singh Dhoni praised Monty Panesar after the England spinner's performance in the 10-wicket win in the second Test in Mumbai.
"None of the other bowlers troubled the batsmen in the way that Monty did," said Dhoni.
"All the other bowlers got turn and bounce, but the pace Monty was bowling at made it so much more difficult."
Dhoni also held Panesar up as an example to his own trio of spin bowlers, who were punished as England batsmen Kevin Pietersen and Alastair Cook both made centuries.
"We could have made them drive more than we did," said the skipper. "If you bowl too short on a wicket that has extra bounce you give the batsman more time.
"I wish we could have bowled fuller because Pietersen and Cook played really well off the back foot."
England's win came after a nine-wicket defeat in the first Test on a slow, turning wicket in Ahmedabad.
The pitch in Mumbai offered even more assistance for the slow bowlers and, even though England spin pair Panesar and Graeme Swann shared 19 wickets, Dhoni insisted the hosts were right to tailor conditions to suit their strengths.
"It was a typical subcontintenal wicket," said Dhoni. "What's the point of playing on flat wickets, trying to win the toss then batting for three or four days?
"You want to face challenges in Test cricket and these are the sort of wickets to push you towards that. All of the wickets should be like this."
But former Indian batsman Rahul Dravid believes India got their tactics wrong in Mumbai, including underestimating Panesar, who did not play in Ahmedabad.
"They can't afford to go into the next two Test matches asking for a pitch that turns straight away," Dravid told BBC Sport.
"Dhoni will have to rethink his strategy. Maybe he did underestimate the quality of the England spinners, especially Panesar.
"Playing with three spinners doesn't seem to work. They will have to relook at the composition of the attack."
Dravid also does not expect India to change their batting line-up for the third Test in Kolkata, meaning veteran Sachin Tendulkar, who has made only 29 runs in the series, would keep his place.
"I don't think the batting line-up will change, they will just need some better performances," said Dravid, who made 13,288 runs in 164 Tests.
"I don't think they will or should review Tendulkar's future until the end of the series. We need someone of his experience."