India v England: Host media deflated by second Test defeat
Last updated on .From the section Cricket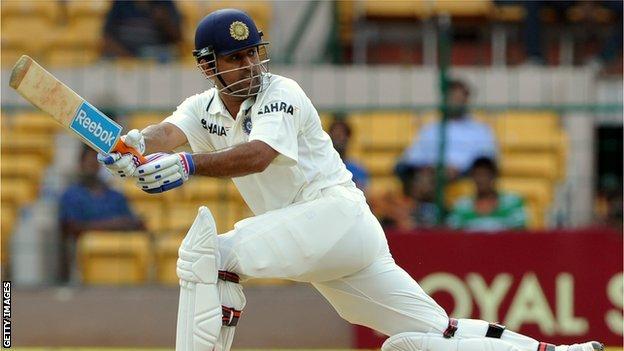 India's 10-wicket defeat by England sparked sharp criticism from the domestic media on team selection and skipper Mahendra Singh Dhoni's strategy.
Criticism of Dhoni's preference for spinning tracks was widespread, as was speculation over batsman Sachin Tendulkar's future.
Ploy backfired
PTI news agency said "India's ploy to prepare a spinning track backfired heavily" as England's discipline made them a superior side.
The agency described India's performance as "a pathetic display" and conceded that the English thoroughly beat the hosts on their home turf.
Popular cricket website Cricketnext.com said Dhoni now has "a lot of rethinking to do" as his strategy appears to have failed.
The Indian Express also directed criticism at the Indian captain, saying he "hyped up" his batsmen and spinners on turning tracks, but the result showed that his enthusiasm was misplaced.
The paper said Dhoni was too busy measuring up his own resources and "failed to check" the English batting and spinning web of Monty Panesar and Graeme Swann, resulting in an "embarrassing defeat."
The Deccan Chronicle blamed spinners Harbhajan Singh and Ravichandran Ashwin for failing to exploit the track. Ashwin in particular "could not stick to a consistent line and struggled to be penetrative despite bowling 42 overs in the first innings," the paper said.
Questions over Tendulkar
While the media and pundits blamed the whole team for failing to perform against England, veteran batsman Sachin Tendulkar's poor form once again drew flak and fuelled debate on his possible retirement.
In an opinion poll conducted by the Deccan Chronicle, 82% of online readers said it was time for the star batsman to bow out.
Hindi news channel Aaj Tak said the "god of cricket" seems to losing his sheen.
However, the batsman received support from the Board of Cricket Control in India (BCCI).
"He will hang up his boots when he thinks it's time for him to go. He does not need any advice on this. Before making a comment on his performance you have to see his colossal record and his past performance," BCCI official Rajiv Shukla said.
England praised
The Indian media showed no reluctance in praising England for their impressive show.
Kevin Pietersen, Monty Panesar and captain Alistair Cook were seen as key performers.
The Deccan Chronicle said England played this Test with a "tremendous amount of self-belief," and praised the visitors for responding positively to their defeat in Ahmedabad.
The Indian Express said England showed "remarkable character and resilience" to square the series 1-1.
The next Test will begin on 5 December in Kolkata.
BBC Monitoring reports and analyses news from TV, radio, web and print media around the world. For more reports from BBC Monitoring, click here. You can follow BBC Monitoring on Twitter and Facebook.