Gloucestershire take T20 matches to Cheltenham festival
Last updated on .From the section Cricket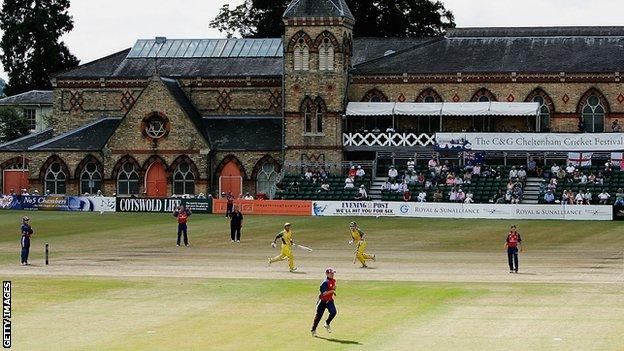 Gloucestershire are to play Twenty20 cricket at the Cheltenham festival for the first time next summer.
The College Ground, which has only staged Championship and CB40 games in the past, will host group games against Warwickshire, Northants and Glamorgan.
The festival runs from 10-21 July and also includes four-day matches against Kent and Worcestershire.
"The College is ideal for one-day cricket," director of cricket John Bracewell told BBC Gloucestershire.
"They are really good wickets and the ball runs away so you can maximise your hits.
"They are always entertaining and are quite often momentum games. Once you start hitting there, it's very hard to either halt the team or stop that momentum."
However, Bracewell admitted he had concerns about the decision as it may mean a loss of revenue for the club.
"Although they will be great events and matches, it's not necessarily ideal as a company," he added.
"Cheltenham obviously sells very well in its own right and most of the CB40 games we've had there are probably some of the best games, in terms of entertainment.
"Cheltenham is set up for that format and the T20 games almost sell themselves anyway. Whilst the north of the county get a good event, we're going to take a hit."