Steve Harmison: Durham future in his hands - Geoff Cook
Last updated on .From the section Cricket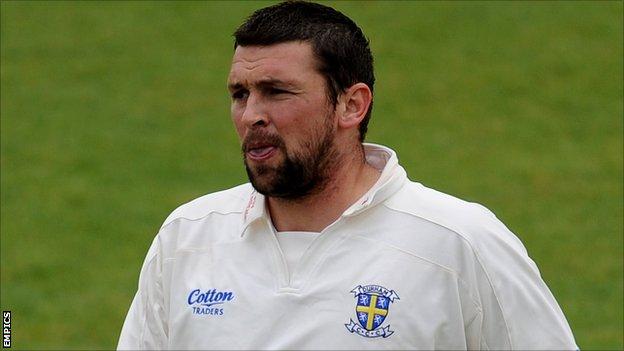 Head coach Geoff Cook has said Steve Harmison's future is in "his own hands" as he enters the final year of his current deal at Durham.
The 34-year-old, who spent part of an injury-affected 2012 campaign at Yorkshire, remains part of Cook's squad for the 2013 campaign.
Cook told BBC Newcastle: "2013 is an important season, it's the last year of his contract, and a benefit year.
"He doesn't want it to be the last year of a brilliant career."
Harmison took 14 wickets in the 2012 season, at an average of 30.28, the lowest wicket haul of his English first-class cricket career.
However a spell of fitness work in the gym, coupled with the prestige of a benefit year in 2013, has given the Ashington-born seamer a chance to impress.
He added: "It's very much in his hands, he worked hard last winter but got a bad injury in February that put him back a little bit.
"What we've got planned for him for this winter is getting him bowling a bit earlier, getting his confidence up, and getting some bowling time indoors or even abroad if that opportunity comes up.
"We hope when April comes along he's ready and desperate to get involved in that bowling group that was so successful at the end of last season."
While Harmison continues his preparations for the new campaign, a number of Durham's senior professionals have taken up opportunities abroad during the winter.
Graham Onions has been 12th man with the England set-up during the India test series, while Scott Borthwick and Ben Stokes have been with the England performance programme squad in Dubai and India.
In addition Mitch Claydon returned to New Zealand's Canterbury Wizards to play in the HRV Cup for a third spell.
"We always try to encourage the younger players to go, rather than spend the winter in the indoor nets, to get some life experience and cricket experience be it in New Zealand, Australia or South Africa," Cook continued.
"It's brilliant for them, and we've got quite a few of the younger lads either abroad of going abroad after Christmas.
"Michael Wood, who we are hoping for big things from, he is spending a second winter in Queensland, Paul Coughlin is going to Australia again and the wicketkeeper Cole Pearce is going too.
"Obviously we've got two or three with England and it's nice that they're picking up cricketing experience and that's what you want.
"Indoor stuff is OK to an extent, but you need these fellas to be learning how good they are and how good they can be."