Is Ashley Giles the right man for England's one-day teams?
By Marc Higginson
BBC Sport
Last updated on .From the section Cricket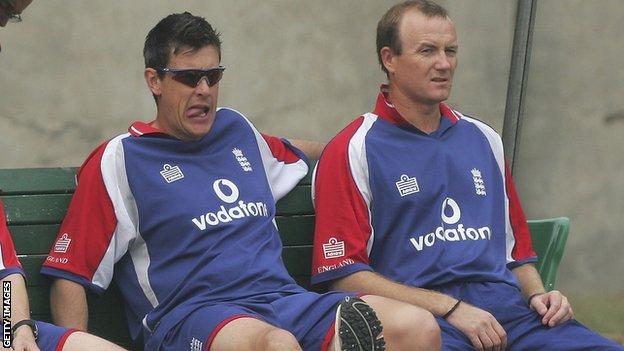 Ashley Giles has left his role as Warwickshire director of cricket to take over as England one-day international and Twenty20 head coach.
The former England spinner, who took 143 wickets in 54 Test matches, has been a national selector since 2008.
In his new role he will report to team director Andy Flower, who will focus primarily on the Test side.
Is this a good move for English cricket? BBC Sport speaks to Flower and Giles's former England team-mate Shaun Udal, who took eight wickets in his four Test matches, to find out.
Why has Flower given up some of his responsibilities?
AF: "I have been in discussion with [ECB managing director] Hugh Morris for a little while now and that revolved around the best use of coaching resources. This is an efficient and effective innovation that we are bringing in.
"It is because of a combination of two things. It is important we do find a balance in our lives but also important to use the resources at our disposal."
So was it a surprise?
SU: "It was a little bit of a surprise but, knowing the way England work, it is also very good forward planning. I think it's a good move because there are time restraints on Andy Flower now. He has a young family and that is something that needs to be considered. It's a progression thing and England obviously identified Ashley as the man they wanted to integrate into the system."
How will Flower and Giles work together?
AF: "We will work closely together on cricket strategies. We look forward to success with all of our sides.
"I will certainly be watching [the ODI series with India] very closely. It is part of my job to be working with Ashley. He has decision-making powers for both [one-day] sides and I think we can make the system work."
Will this benefit the England cricket team?
SU: "Ashley has cut his teeth in the County Championship with Warwickshire and has done fantastically well [winning the Division One title in September].
"It's a good sign of consistency. Ashley has been one of the selectors for a while, during a successful time for England. He had a successful career himself so he knows the international game and he will have the respect of the players because of that.
"Warwickshire got to the CB40 final last season and the basics of a successful England side are there, so it all makes sense to me."
Tell me about Ashley Giles the man
SU: "Ashley is a very solid man, a genuinely good guy. He had a lot of unfair criticism when he played so he is used to that side of things as well, which is a positive. He was a successful Test bowler and Ashes winner and was a very gutsy player who made the most of his ability.
"I think that is an area where he can help younger players coming into the England set-up, to make them aware of the mental and psychological challenges that await in Test match cricket."
And what about Ashley Giles the coach?
AF: "Ashley is a very fine coach. He has international experience as a player, he has experienced success at Warwickshire and he knows the players as a player himself and also as a selector. He is a fine appointment."
SU: "Chris Wright and Keith Barker were the stand-out bowlers for Warwickshire last season and neither of them were household names before the season started, but Ashley and his backroom staff got the best out of them. Clearly he is a man who recognises ability and gets the best out of players.
"He was a spinner so, as a bowler, he had to work out the technical side of batsmen - you can't just blast them out with raw pace. You have to out-think batsmen in a lot of areas. A lot of cricketers have great cricket brains and I think Ashley was one of those."
So is Giles a long-term replacement for Flower?
AF: "None of us knows exactly how it will work or exactly how things will pan out in the future. The sensible thing to do is to have some sort of succession plan and this is part of it. That does not discount other possibilities in the future."
SU: "You would have to say Ashley is in pole position to take over from Andy Flower in the long run. I am sure it will bring more success for the England cricket team."