India v England: Stuart Broad cannot be a passenger

By Alec Stewart
Former England captain
Last updated on .From the section Cricket95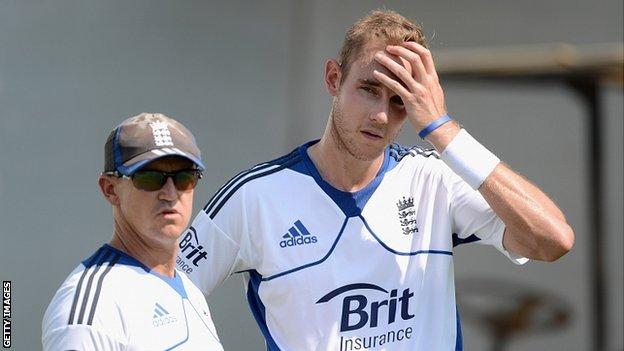 It is very difficult to make bold statements on who should play for England from thousands of miles away but on the evidence I have seen Stuart Broad is clearly struggling.
In the first innings in Mumbai, his 12 overs cost 60 runs so he also hasn't been able to offer any control. The fact that he wasn't used at all in the second innings shows you that captain Alastair Cook does not currently see him as the go-to bowler that he is when he is at the top of his game.
Some people may wonder why a bowler has to be dropped when there are batsmen who are struggling too. They may point the finger and say Samit Patel has done very little in the first two Tests or that Jonathan Trott is well below his best.
But the fact is that there are seven batsmen in the team and only four bowlers and you simply cannot afford to carry one of them.
If you are only playing two quick bowlers you have got to make sure they are both offering something, whether that is taking wickets with the new ball, keeping the scoring rate low or striking with the old ball through reverse swing.
James Anderson has only taken two wickets so far, but he has looked a threat with the new ball and only conceded three runs per over.
England can't expect Monty Panesar and Graeme Swann to take all the wickets again in Kolkata as they did in Mumbai. They need all four of their bowlers playing their part to the full and that hasn't been the case with Broad so far.
Broad's loss of form opens the door for Steven Finn, who must have a great chance of playing after finally proving his fitness.
He would have played in the first Test as part of a three-man seam attack if he had not injured his thigh and he bowled exceptionally well in England's one-day series in India last year.
He has a bit more pace than Broad and that can be essential in conditions offering very little sideways movement off the pitch. Even if the ball is not doing much in the air or off the pitch, if is sent down at 90mph it is on to the batsman before he has time to react.
Finn's inclusion would inevitably lengthen England's tail but I don't see this as a problem, especially given that Broad has only scored 34 runs in three innings in the series.
The top seven are there to score the runs and numbers eight to 11 are there to take the wickets. If bowlers can chip in and score runs, that's a nice bonus, just as it is if a batsman can take a few wickets.
If Broad is left out, people would be foolish to write him off. This is a little blip in what has so far been a very successful England career and the key will be to judge him on how he comes out the other side.
Everyone goes through dips in form and there is no point moping about feeling sorry for yourself. You need to show real strength of character to get through it and put things right.
Whoever plays on Wednesday, England will head to Eden Gardens in confident mood after outplaying India in all departments in Mumbai.
Home captain Manhendra Singh Dhoni has asked for another raging turner, which could be a high-risk strategy when you look at the way Panesar and Swann outbowled Ravichandran Ashwin, Pragyan Ojha and Harbhajan Singh in the second Test.
England will still need to pull off a miracle to win this series and if they do it would surpass their achievement of winning the Ashes down under in 2010-11.
India have not lost a home series since 2004 and they will be absolutely determined to keep that proud record intact.