Ricky Ponting a legend on and off the field, says Justin Langer
By Justin Langer
Former Australia Test batsman
Last updated on .From the section Cricket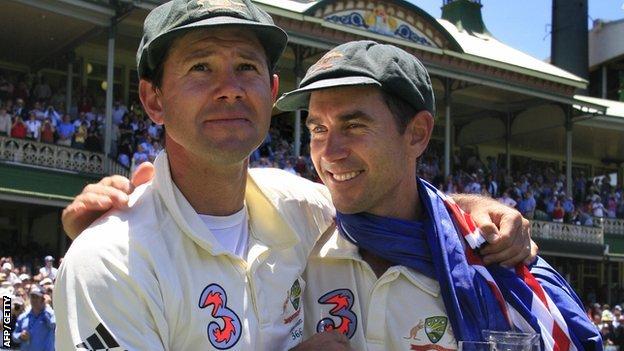 "Boys I have something to say, come in here for a second."
As we gathered around our captain, he looked us all in the eyes and said: "I want us to be humble in victory.
"Enjoy the moment, celebrate, but do it with humility. The job isn't done. Remember what we set out to achieve before the series began."
For a moment, I couldn't help thinking Ricky Ponting, the kid with the street-fighting instincts from Launceston in Tasmania, the same kid who had started out as such a loveable rogue in his youth, had turned into Winston Churchill.
So profound were his words they still resonate with me today, as
His reminder came as we were walking back onto the WACA during the third Test of the 2007 Ashes series. At lunch in Perth, we had England nine wickets down, with number 11 batsman Monty Panesar standing between us and victory.
Already 2-0 up in the series, we knew we were just moments away from regaining the cherished urn and at the break were behaving like excited children on Christmas Eve.
Two years before, we had been humbled by a resurgent England, losing 2-1 to surrender the Ashes for the first time in 18 years, our great team given a wake-up call. From the moment England celebrated at the Oval, we made a vow to remedy that outcome.
Now, as we stood together at the WACA, our ambition about to be realised, the captain, one of the most humble people I have ever met, gave us a timely reminder.
Coming from him, it made sense.
He was believable because he walks the talk and wouldn't ask anyone to do something he doesn't do himself. This is one of the traits of great leaders and certainly a trait of Ricky Ponting.
At the previous Test match, he had also had cause to address us collectively, on that occasion as a great general rather than a prime minister.
In the second Test at Adelaide, England had made a mammoth 551-6 declared in the first innings and victory looked impossible for us. In his usual frank, succinct way, Ricky said: "There is not a person in the world who thinks we can win this Test match. Let's just see about that, hey?"
With that, he walked away from the group.
A few hours later, he had smashed a majestic century. Hope was rekindled and we went on to win the Test. Not for the first time in his remarkable career, he made the impossible seem possible.
Away from the cricket ground, he treats all people as equals. He signs every autograph, never takes himself too seriously and has set up a successful foundation with his beautiful wife Rianna, helping children with cancer.
He is generous with his time and his compassion towards others is legendary.
Last year, he bought 12 bottles of an enormously expensive vintage red wine for our departing media manager. There was nothing famous or particularly notable about Lachy Patterson, except the fact he worked tirelessly as one of the drummers in the band Ricky had run as the Australian cricket team. Ricky recognised his contribution and wanted to reward him for his efforts.
Not many people think of the little things like this; Ricky never forgets to. That is why he has such an impact on people's lives.
It used to frustrate me, even make me angry, when crowds in England and India would boo my little mate onto the ground. If only they knew who they were booing. Not only was he one of the greatest players the world has ever seen, he is also one of the great people.
Maybe it was simply the greatest sign of respect they could show an Australian who had broken so many opposition hearts with his incredible competitive spirit, phenomenal batting and breath-taking fielding.
I am hoping so.
His public persona has always interested me. My grandmother, who died aged 97, told me every time I saw her that she didn't like Ricky Ponting much. After years of arguing with her, she wouldn't budge. Looking back affectionately, I think she was disgruntled because he had wrested the number-three batting position from her favourite grandson years before.
Maybe she should have met him because among his peers - and anyone who comes in contact with him - there is not a person I have met who has earned more respect. Most people have some critics but you would have to travel to all corners of the earth to find a person who has met Rick and doesn't admire and love him for everything he is.
His legacy is immense. His batting and captaincy records speak for themselves.
Most exciting is what happens next because I have no doubt that he will live a post-cricket life full of successful new adventures and journeys.
Ricky Ponting as a legend. Few men boast this legacy.
His leadership, passion and love for the game will be irreplaceable. Few men are truly irreplaceable but, like Shane Warne before him, Ricky Ponting is.