Alastair Cook dejected by bizarre run out - Jonathan Trott
Last updated on .From the section Cricket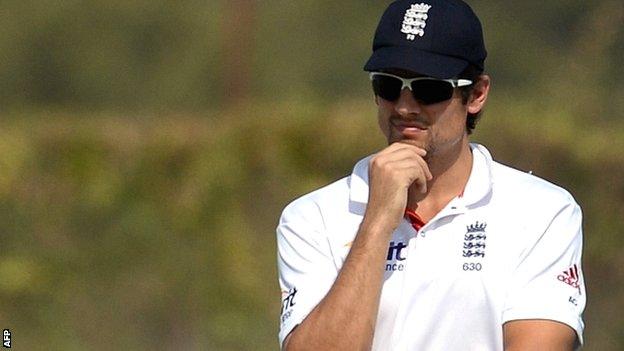 Jonathan Trott said Alastair Cook was dejected by his unusual dismissal as England closed day three of the third Test 193 runs ahead of India.
Skipper Cook was within 10 of his third Test double hundred when he was run out as he took evasive action from a throw.
"He was obviously deeply upset, and realised what an opportunity he had to still be batting," batsman Trott said.
"It's really disappointing for him and the team to get out that way on 190 but he played magnificently well."
England were already 43 runs ahead with eight wickets intact when Cook's bizarre dismissal occurred.
Virat Kohli's throw hit the stumps directly at the bowler's end, passing under the arm of non-striker Cook as he raised his hand to try to protect his head from the ball, rather than grounding his bat.
It is the first time the 27-year-old left-hander has been run out in first-class cricket and Trott added: "You feel for the guy, he's made a mistake.
"It's one of those things, a freak dismissal, you'll probably only see it a handful of times, it's unfortunate on such a great stage it's happened to Alastair, we all would have liked him to get 200 but it wasn't to be.
"He didn't really say anything. We just let him stew. He's not one who will express too much emotion or disgust. Deep down I know he'll be very upset, but we're also very happy with the job he did."
Wickets began to fall more frequently in the final session but with two days of the match remaining England are within sight of a 200-run lead and still have four wickets left.
Trott was the second England wicket to fall in Kolkata, having shared a 173-run partnership with his captain.
The 31-year-old made 87, narrowly missing out on his eighth Test century but was pleased to return to form having made two ducks and scored only 17 runs in the first two Tests.
"I'd be lying to say it wasn't a dream to come to Eden Gardens and get a hundred in a big Test series like this but it's nice to contribute finally in the series, spend some time in the middle and do some work for the team, so it was a pretty pleasing day," he said.
Asked about the state of the contest with the four-match series tantalisingly poised at 1-1 he added: "It's turning a little bit more than Monty and Swanny got it to in the first innings but that's just normal for Test wickets.
"There's plenty of runs out there but I think if you bowl well and restrict people we can make it difficult for them in the second innings."