England win in India would surpass 2010-11 Ashes triumph

By Alec Stewart
Former England captain
Last updated on .From the section Cricket73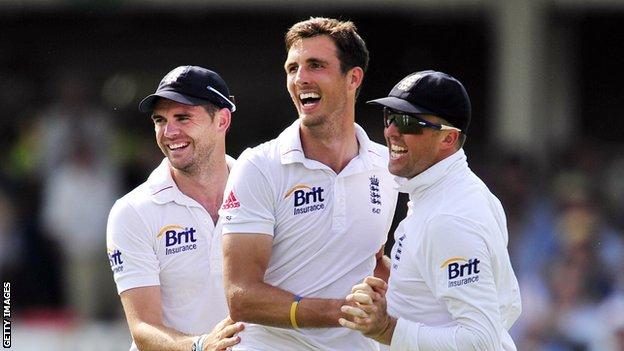 England's performance in beating India in the third Test in Kolkata was even better than the one they produced to level the series in Mumbai.
While in Mumbai only four players made major contributions to the victory, this time it was a true team performance, with everyone from numbers one to 11 playing their part.
The excellent bowling of seamers James Anderson and Steven Finn backed up another fine display from spinners Monty Panesar and Graeme Swann, while the batsmen offered good support to their captain Alastair Cook, who deserves all the accolades he is getting for his record-breaking achievements.
In the space of three weeks, England have turned the series on its head and are now in a position they could only have dreamed of before they left for this tour in India.
If they do avoid defeat in Nagpur and win a series in India for the first time since 1985, it would be an incredible achievement and one that, for me, would rank even higher than ending 24 years of hurt by winning the Ashes down under in 2010-11.
Since their last series defeat at home in 2004, India have played 14 Test series, won 10 and drawn four. Before Sunday, they hadn't lost back-to-back home Tests since 2000 against South Africa.
This is a difficult part of the world to tour, and yet in the last two Tests England have outplayed India in all departments of the game in conditions their opponents have grown up in.
In terms of performances on the subcontinent, I have not seen an England team perform this well since we beat Pakistan and Sri Lanka in the winter of 2000-01. They were the most satisfying tours I went on as a player.
Although they only need to draw the last game of the series, England are quite rightly saying they want to finish the job with a win in Nagpur. If you go in with a safety-first approach, quite often you come unstuck.
They need to work out the conditions as soon as possible and play accordingly. India need to do all the running in trying to win the game, while England will have to keep improving on what we've seen in the second and third Test matches.
If England do win the series it is crucial they are fully aware of their achievements and celebrate it well, but then concentrate on taking their game to the next level.
When they got to number one in the world last year, they said they wanted to go on to leave a legacy but then fell back down to earth with a bump with a 3-0 defeat by Pakistan in the United Arab Emirates.
If they want to go down as one of the great sides they need to be consistently successful over a four or five-year period and hopefully this series can act as the springboard.
While England are on an upward spiral, India have many problems to address after slumping to a 10th loss in their last 16 Tests.
They have not yet been able to replace retired greats Rahul Dravid and VVS Laxman, their captain MS Dhoni cannot seem to reproduce his one-day form in the Test arena, and they are struggling to bowl teams out.
In Sachin Tendulkar, they have one of the greatest batsmen ever to play the game, but his 76 in the first innings in Kolkata was his first score of more than 27 in 11 innings.
It is imperative that Tendulkar retires while he is still a very good player. He needs to know when the time is right to say goodbye to the game he has graced for so many years.
Only he will know if his own form has dipped so far that he can't get it back but you really don't want a great of the game to get a tap on the shoulder from the selectors to say it's time to go.
When Ricky Ponting announced his retirement, he said he was doing it because he was no longer meeting the levels he expected of himself. Sachin needs to know when he has reached that point because you never want to outstay your welcome.