Outstanding England exploit spineless India in Kolkata Test

By Jonathan Agnew
BBC cricket correspondent
From the section Cricket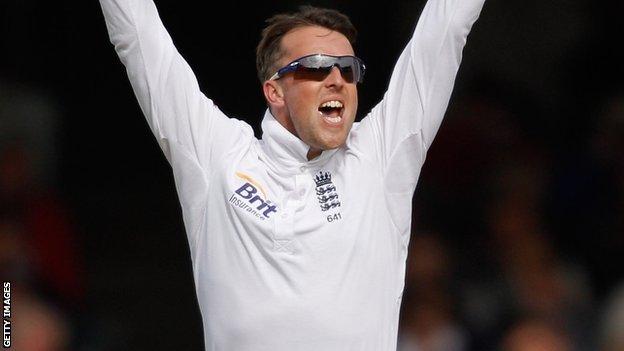 Saturday at Eden Gardens produced a wonderful day of Test cricket in which the fortunes of both sides fluctuated from one extreme to the other.
England were as awful in the morning as they were brilliant in the afternoon and the same can be said of India in reverse.
In losing their last four wickets for 14 runs, England fell quite some way short of the lead they were hoping to establish and the way India batted in reaching 86-0 at lunch will have caused plenty of concern among England fans.
When Gautam Gambhir struck a four and a six in the last over before the interval he was a making a real statement of intent and it looked as if England could be chasing a truly testing target on the last day.
But the combination of a clever piece of bowling by Graeme Swann and a lazy shot from Virender Sehwag turned the day on its head.
From then on, the performance of the rest of India's frontline batsmen lacked any heart.
They really didn't look as if they were up for a fight and that is something the India selectors are going to have to look at going into the next Test, which the hosts will almost certainly have to win.
From an England perspective, being on the brink of a 2-1 lead is a fantastic achievement and an amazing turnaround after losing the first Test in Ahmedabad.
They have been absolutely outstanding and have shown a huge amount of heart and determination to bounce back.
People can talk about Monty Panesar's non-selection for the first Test if they want but it was the batting in that first innings that lost England the match and they have put that in order.
They have also picked a more balanced bowling attack, with Steven Finn bowling very impressively to back up James Anderson, who has found some reverse swing in Kolkata.
England just look a better side than India at the moment and will go into the final match in Nagpur as favourites to win the game and wrap up the series.
Before that of course, they will have to come back tomorrow and finish off this match after Ravichandran Ashwin single-handedly took it into a fifth day.
Ashwin is paid to take wickets, and he is struggling in that department at the moment, but he is a proper batsman and his innings showed up the poor performances of those who came before him.
What surprised me was the number of India supporters who stayed to get behind their team even in a losing situation - the noise levels at Eden Gardens today were quite something.
I half-expected most of them to shuffle off long before the last pair came together but they love their cricket in this part of the world and they were delighted to see Ashwin take the game to the last day.
I imagine that England supporters back home who are going to have to get up at 3.30am to follow the denouement aren't quite so thrilled.