India v England: Hosts could still win third Test - Agnew

By Jonathan Agnew
BBC cricket correspondent
From the section Cricket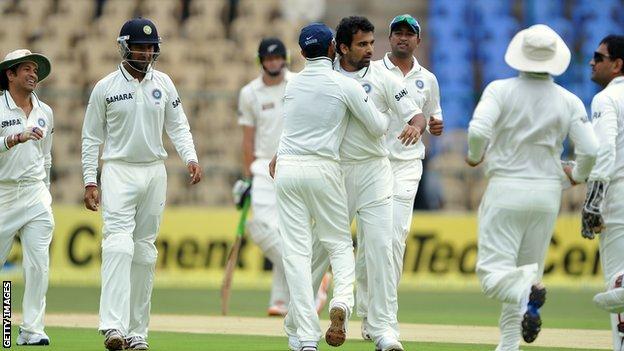 The third day of the third Test in Kolkata was another absorbing part of a very interesting Test match - one that India could yet win.
Of course, England will be very happy with the position they are in, but they did not score as quickly as they perhaps might have liked, which was always possible after the fall of a couple of wickets.
As a result, the tourists are not in an invincible position and could yet face the prospect of a tricky final-day run-chase on a pitch that is increasingly worn.
Because of that, England will want Matt Prior and Graeme Swann to continue their good work of the third evening so that the tourists can maybe add another 70 or 80 runs on day four.
After that, the visitors will have the task of bowling India out, which is where the real intrigue will begin. India could fall over in a heap, or they could set England the sort of target that was so far out of reach when they lost to Pakistan in Abu Dhabi earlier this year.
A lot is up in the air but clearly one would rather be in England's position, with a platform built by the good work of Alastair Cook and Jonathan Trott, than that of India.
Trott played really well, setting his stall out to bat all day and grinding India down. His dismissal, caught behind off Pragyan Ojha, was to a classic left-arm spinner's delivery accentuated by turn and bounce, and an illustration what the pitch is now doing.
As for Cook, all the superlatives that were lavished on him for his record-breaking hundred on day two still apply and it was likely to take something special, or odd, to get him out. It proved to be the latter.
The laws of the game state that batsman have to make their ground before taking evasive action to avoid being hit by the ball. Cook never made his ground before Virat Kohli's throw demolished the stumps and the captain knew that he was out. The umpires were on it straight away and it was absolutely the correct decision.
Some were saying that India should have withdrawn their appeal, but that is nonsense. Cook was out and he knew it. That does not make the dismissal any less strange - I haven't seen anything like it in 30 years and if any photos exist they will all look rather peculiar.
You may wonder what Cook could have done to prevent it and will come to the conclusion that letting it hit him was the only option.
That great piece of fielding from Kohli was part of a better day for India, certainly an improvement on their second-day showing.
However, they still do not ever really look fully up for it in the field, an approach epitomised by Ishant Sharma's horrible drop off Cook - that is just one of the reasons why they are so up against it in this match.
England will know that every run they get tomorrow (Saturday) will be one more they do not have to get batting last.
An in-form Prior, supported by the tail, could ensure that any potential run-chase is not too great.