India v England: Alastair Cook is England's Jacques Kallis

By Jonathan Agnew
BBC cricket correspondent
From the section Cricket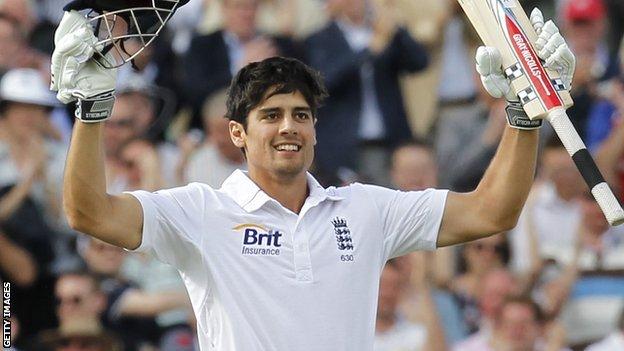 The more we heap praise on Alastair Cook, the better he gets and I am running out of superlatives to describe England's incredible captain.
Over the course of Thursday's play, the left-handed opener became the first player to score hundreds in his first five Tests as captain, the youngest to reach 7,000 runs and England's most prolific centurion in the five-day form of the game.
That's not a bad day's work by anyone's standards.
At the tender age of 27, Cook has time to go on and set a centuries record that will take some beating. He should have at least 10 years in the game and if he stays fit and healthy and maintains his appetite for runs he could have more than 40 hundreds by the time he retires.
You always worry when a successful batsman becomes captain that it will affect his form but at the moment it seems to be giving Cook that little bit of extra edge.
Like Australia's Michael Clarke, Cook seems to thrive on the responsibility of captaincy, raising the tantalising prospect of a battle within a battle in next year's Ashes between two leaders at the absolute peak of their powers.
In terms of temperament, Cook reminds me of South Africa's Jacques Kallis in that both are so phlegmatic and very focused in their attitude to batting.
They are both so unruffled and push everything else out of their minds when they go and play. They know their own games inside out and and score in the same places every time they go out to bat.
In Cook's case, the majority of his runs come square of the wicket on the off side and through midwicket or round the corner on the leg side.
He can be a reluctant driver of the ball so India should be pitching the ball up much more to him and getting him onto the front foot, rather than feeding his favourite scoring areas.
In fact, Cook was feeling so confident against this attack that when he was still in the twenties he lifted Ravichandran Ashwin over long-on for six.
India's failure to come up with any effective plans to deal with Cook was symptomatic of a day on which the home side looked like the one that were beaten 4-0 in England last year.
They were totally flat and if you had just arrived at the ground and didn't know who their captain was, you would have struggled to work it out.
Mahendra Dhoni's complete lack of any animation or purpose rubbed off on his team-mates and there was no one clapping hands in the field or offering any encouragement to the bowlers.
India's predicament was encapsulated in the decision to send fielding coach Trevor Penney to speak to the media at the end of the day. No-one more high-profile wanted to put their head above the parapet after such a disappointing performance.
India have got to come out and show much more fight and sparkle on Friday or this game will be beyond them.
It is a new day and if they can get themselves a couple of early wickets they could be back in the game.
I would not, however be queuing up to bowl to Jonathan Trott after seeing the last hour he was at the crease.
He was very disappointed not to contribute to the Mumbai win and looked like he was booking himself in to bat all day tomorrow.