India v England: Anderson, Finn, Swann and Panesar 'outstanding'

By Jonathan Agnew
BBC cricket correspondent
From the section Cricket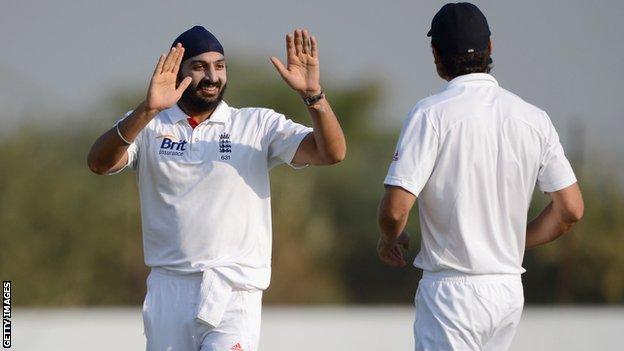 England must have had a sinking feeling when they lost the toss on the first morning of the third Test against India in Kolkata, but undoubtedly it turned out to be their day.
Having lost the toss three times in a row, the tourists must feel they are due to win one, not least because they know the hard work that comes with having to field first.
But they will have taken great heart from the way they won the second Test in Mumbai.
And Alastair Cook's side were outstanding in reducing India to 273-7 on a benign pitch.
Pace bowler James Anderson led the way, finding swing with the old and second new balls. Meanwhile, Finn, though he did not take a wicket on his recall, bowled with pace and hostility to look threatening.
They were joined as a unit by spinners Monty Panesar and Graeme Swann, with the latter the only England bowler performing slightly below his best.
On the whole, England bowled tightly on a pitch that was giving them nothing, building pressure and relying on Indian mistakes, of which there were plenty.
The early run out of Virender Sehwag was a real gift and the exit of Gautam Gambhir was also an error, highlighting how pressure from the bowlers can negatively impact a batsman's decision-making.
And perhaps the worst culprit was Yuvraj Singh, whose pat to short extra cover off Swann was one of the tamest Test dismissals you could ever see, especially after he had battled for so long with Sachin Tendulkar.
Tendulkar was rather let down by his team-mates, especially after such a fascinating spell in the hour following lunch when one of the true greats of the sport wrestled with his own game.
Make no mistake, Tendulkar is man under a lot of pressure and he knows he's not batting anything like the way he did when he was at his peak.
His first hour was ugly. He was clinging to the crease, with his feet barely moving, but he drew on every single ounce of experience that he has to get through that tough situation.
He kept things incredibly simple, scoring most of his runs behind square, including lots of little sweeps off Swann. By the end, he was starting to look more comfortable until he got a beautiful delivery from Anderson.
Mahendra Singh Dhoni is another man under pressure and another who dogged it out to defy England. However, it could have been very different.
The captain danced down the wicket to his first ball, aiming a horrible swipe at Swann.
It was a terrible shot, betraying his lack of confidence and the pressure on him. If he'd been caught at mid-wicket from that wild slog then the cricketing world might have combusted.
But after that rush of blood he did get his head down and now has a very important job on Thursday because India have to eke out every run they can from their last three wickets.
England have got to consider the best way of knocking over the tail with a ball that is still quite new, then get down to the batting.
When the time comes, they all have to dig in, apply themselves and carry on the good work done by Alastair Cook and Kevin Pietersen in Mumbai.
They need to occupy the crease, not aid India by giving away cheap dismissals and work hard for every run. If they do that, they will have a very good chance of winning this Test match.