New Zealand Cricket apologise to Ross Taylor for captaincy row
Last updated on .From the section Cricket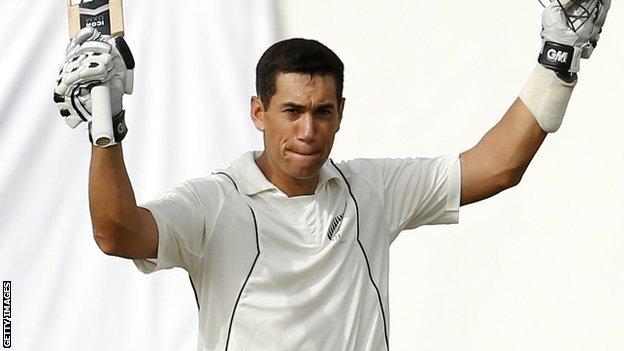 New Zealand Cricket has publicly apologised to Ross Taylor for the poor manner in which it handled the end of his reign as captain.
Taylor, 28, quit as skipper after being asked to hand over the one-day and Twenty20 reins to 31-year-old wicketkeeper-batsman Brendon McCullum.
New Zealand Cricket apologised for "the manner in which events have unfolded" after a review of the captaincy issue.
Taylor said via Twitter: "I appreciate the apology from NZC."
He added: "Keen to put it behind me and looking forward to getting back with the team soon."
McCullum took over in all three formats while Taylor opted out of the tour to South Africa this month.
New Zealand host England for a series of Tests, ODIs and Twenty20s in January.
New Zealand Cricket [NZC] boss David White said coach Mike Hesson had recommended Taylor step down from the captaincy of the shorter formats as part of a review following the team's tour of Sri Lanka, where they drew the Test series 1-1.
Despite the controversy surrounding the demotion of the country's best batsman, NZC chairman Chris Moller said no one will lose their job.
"There are no hanging offences in all of this," he said. "Yes, the ball's been dropped, absolutely. Could we have done things better? Absolutely.
"Are we going to learn from those mistakes, well we hope so."
Taylor replaced Daniel Vettori as captain in June last year, and although he guided New Zealand to a Test win in Australia, was under pressure in 2012.
His team suffered Test series defeats at home to South Africa and then away to West Indies and India.
His record in the shorter formats was also questioned after his team went out of the World Twenty20 tournament in Sri Lanka at the Super Eights stage and lost 10 of their 14 completed ODIs this year.