Warwickshire players want one of their own as coach
Last updated on .From the section Cricket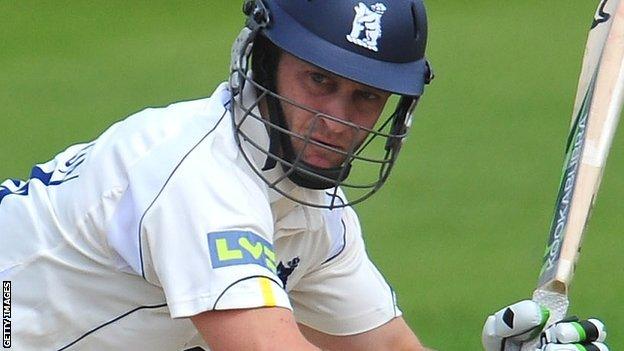 Warwickshire captain Jim Troughton says his players would favour an internal appointment to succeed Ashley Giles as the county's director of cricket.
Assistant coach Dougie Brown has stuck his hand up to spearhead a backroom team that will also involve a prominent role for bowling coach Graeme Welch.
"We're a strong enough club to promote from within," Troughton told BBC WM.
"The management that have got us to where we are will get the full support from the staff and the players."
Opening batsman Ian Westwood, Troughton's predecessor as Warwickshire captain, is in full agreement about the need for continuity at Edgbaston.
"The set-up we've had for the last five years has been a coaching staff of all-Warwickshire men, which has brought a lot of passion to the club," said Westwood, who was speaking at a Cure Leukaemia charity event with Troughton.
"If one of them gets promoted, that will be good for the team to have someone we know and trust."
Troughton admits that it will be no easy task stepping into Giles's big shoes.
"He'll be a tough act to follow," said Troughton. "If we don't win the Championship and get to a Lord's final, it will be seen as a bit of a downer.
"But we knew this day would come after we won the championship. We even joked about it.
"And it's a feather in Warwickshire's cap as a county.
"We just didn't expect it come too soon.
"There's a little bit of uncertainty with Gilo moving on, but we'll just be looking to keep it as smooth as possible.
"We've got a good bunch of senior players keeping the continuity and stability. And it will be our responsibility next summer that Gilo moving on is not an excuse to underperform."
Jim Troughton and Ian Westwood were speaking to BBC WM's Rob Gurney at a Cure Leukaemia charity event at the QE Hospital in Selly Oak, Birmingham.