Kent president-elect Bob Bevan shocked at appointment
Last updated on .From the section Cricket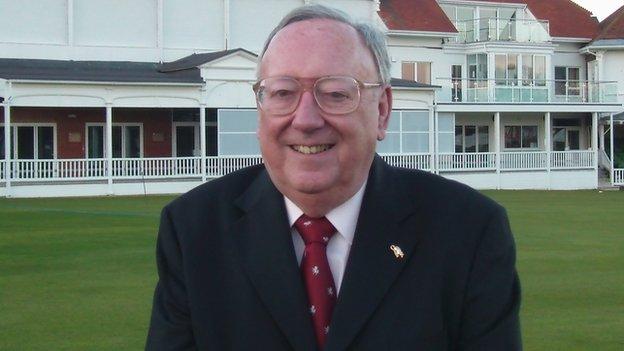 Kent's new president-elect Bob Bevan said he was shocked to be nominated for the role at Canterbury.
Former Kent and England captain Mike Denness will be replaced by the after-dinner speaker in March 2013 after putting him forward for the job.
"I was actually stunned," he told BBC Radio Kent. "I even had to ask him [Denness] to repeat it.
"I went through all the people who must be at the head of the queue. I never thought of myself being in the queue."
Denness said of his successor: "I am certain that Bob will make a fantastic contribution to the club, and I have absolutely no doubt that this news will be extremely well received by Kent supporters."
Bevan has had a long-standing affiliation with the club having hosted benefit dinners for many players over the past 30 years.
He has already had the sarcastic backing of former Kent captain Rob Key.
"Despite the age gap, I've been particularly friendly with Rob Key over the years," Bevan continued.
"He went to school with the sons of all the blokes I used to play football and cricket with.
"He sent a text to me saying 'they'll have any old riff-raff as president these days'."
And Bevan is determined to make the most of his year.
"I'm going to enjoy every day of this. I'll be walking around Canterbury every day, posing with my badge," he concluded.