Only Sachin Tendulkar can decide when to retire - Sir Viv Richards
Last updated on .From the section Cricket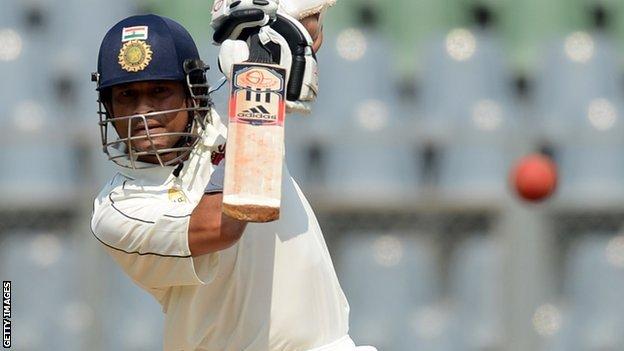 Sachin Tendulkar is the only person who can decide when his career ends, says former West Indies batsman Sir Viv Richards.
Tendulkar, 39, was bowled for two on day two of the fourth Test in Nagpur.
"Nobody is qualified enough to tell him when they think he should go," Richards told BBC Radio Shropshire.
Tendulkar is the highest-scoring batsman of all time and holds the records for the most centuries in both Tests and one-day internationals. Earlier this year, one month short of his 39th birthday, he became the first player to score 100 international centuries.
In October, Tendulkar admitted for the first time he was considering retirement, saying he would decide his future on a "series-by-series" basis.
And Richards believes a player of his achievements should be able to continue as long as he wants.
"When you're retired, you're retired for a very, very long time," said Richards.
"It's like being dead to some degree, so while you're alive and still up for it and still enjoying what you're doing, to me that's what it's all about."
Richards says he understands why Tendulkar might want to play on, recalling his own decision to retire, three years after returning to county cricket with Glamorgan in 1990.
"I wanted to go out with a bang," said Richards, who helped Glamorgan win the Sunday League in 1993 and has fond memories of his swansong.
"To have gone to Glamorgan at that time and to have helped to generate that spirit about what collective competition is all about and having success at the very end of it, it was a proper send-off."