India v England: Trott praises Cook's 'series-changing' run-out
Last updated on .From the section Cricket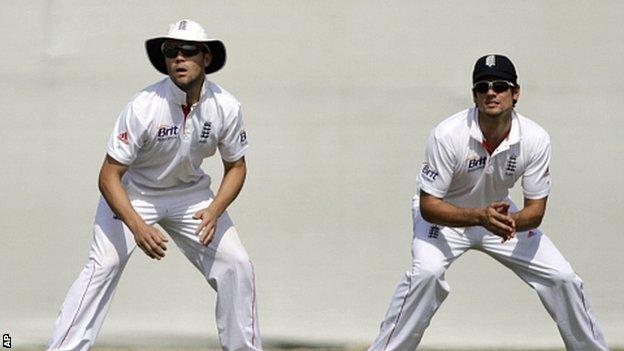 Fourth Test, Nagpur, day three:
England 330 (145.5 overs), India 297-8 (130.1 overs)
Match scorecard
Jonathan Trott says skipper Alastair Cook's run-out of Mahendra Dhoni on day three of the fourth Test against India is a potential "series changer".
"It's pretty neck and neck, but [Cook's run-out] changes things massively," said England batsman Trott.
"To get a chance like Alastair did, and to be able to take it, is a game-changer and maybe a series-changer."
Leading 2-1, England only need a draw in Nagpur to clinch their first series victory in India since 1984-85.
Virat Kohli (103) and India captain Dhoni (99) batted for five hours in their fifth-wicket stand of 198, only for England to take four wickets in the final hour.
And Trott admitted he had wondered whether England's bowlers would ever make the breakthrough.
"They were playing really well, but then Graeme Swann bowled a great ball to Virat Kohli and it changed the day," said Trott.
"Five hours without a wicket, then four wickets in an hour - that's what can happen. It was a fantastic advertisement for the game."
Cook's run-out of Dhoni was reminiscent of the moment Andrew Flintoff ran out Ricky Ponting as the 2009 Ashes were clinched at The Oval - a fact not lost on Trott, who was making his debut in that match.
"It's a bit like Fred's run-out in 2009, maybe the catalyst for changing the game," said Trott.
"We got a run-out like that in Kolkata as well [an Ian Bell direct hit dismissed Cheteshwar Pujara to trigger an Indian collapse at Eden Gardens], so we hope it can help to maybe win us this game."