England v India: Tourists under pressure in final two days

By Jonathan Agnew
BBC cricket correspondent
Last updated on .From the section Cricket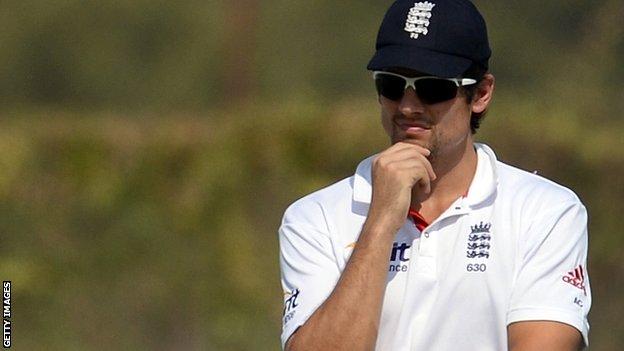 England fought back well on the third day in Nagpur with four late wickets, but I think it was a brilliant day for India.
Both Mahendra Dhoni and Virat Kohli played the situation exactly right and they have given India a chance in this match by putting all the pressure on England to make it safe.
England have to bat a long time to feel comfortable - I estimate about 120 overs if you take into account the slow run-rate in this Test match.
They will know that if they give India a target to chase on the final day, with 10 wickets in hand, they will have a really good go for it because they have nothing to lose.
It can happen in Test cricket where the team batting third feels the pressure, but England have batted well since the first innings in Ahmedabad.
They will be aware that the final ball of the day, when Graeme Swann bowled Piyush Chawla, turned sharply, but on the whole the pitch has not misbehaved.
Staying in on this wicket is not difficult, but run-scoring is. It's all about knuckling down and batting well for England now.
The innings of both Dhoni and Kohli were outstanding - especially when you consider the pressure the former was under.
The news channels in India are dominated by calls for him to be sacked, but he produced a real captain's innings out there.
He has never batted for so long in his career and the only mistake he made was going for the single which brought about his run-out. Few would have begrudged him the extra few inches he needed to beat Alastair Cook's throw, because he fully deserved a century.
He and Kohli showed real discipline as they reined in their natural attacking style of play and they showed what they are capable of.
England supporters back home who got up at 4am to follow the match got their reward late in the day, but their team has a real fight on their hands now.
People have mentioned that James Anderson and Swann didn't bowl as much as Tim Bresnan and Monty Panesar, but Anderson looked sore at the end of the day.
It might be the case that captain Cook was keeping the fast bowler up his sleeve because of a niggling injury.
For most of the day, England were bowling at right-handers so I think it was fair to give Monty more of a bowl but Swann came on late in the day and took two good wickets.
It's all set up for an interesting couple of days now. If India can manage to bowl England out sometime on the final afternoon, it will be fascinating to see if they can score runs quickly on this pitch to win the Test and level the series.