India v England: Media demands India changes after Test loss
By Vikas Pandey
BBC Monitoring
Last updated on .From the section Cricket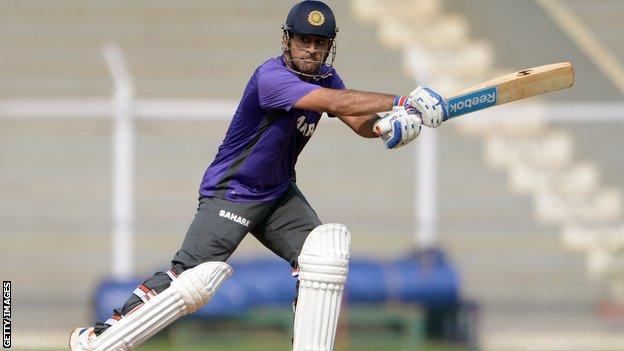 India's crushing series defeat at the hands of England has sparked widespread calls for major changes in their Test side.
Following 2011's 4-0 defeat in England, Virat Kohli and the home media had called the tour a "revenge series" and the batsman was confident of his team's ability to give the English a taste of their own medicine.
But the results show a different story and now the media and cricket pundits are showing their anger towards the Indian Test squad.
"Stale" Dhoni
Former India captain and cricket pundit Sunil Gavaskar is leading the growing calls for Mahendra Singh Dhoni's removal as Test skipper.
He believes the time is right to give the captaincy to 24-year-old Kohli.
"He is ready to take on the mantle of Test cricket," Gavaskar told private TV channel NDTV.
"That needs to be looked at in a positive manner by everyone concerned as that is where the future lies."
Former selector Krishnamachari Srikkanth was more scathing in his criticism of Dhoni.
He said: "Dhoni's become stale and doesn't know what to do when things go out of the way.
"Had I been the chairman of selectors, I would have picked Dhoni as a wicket-keeper batsman, but it is time to look beyond him as a Test captain."
Indian daily Deccan Herald's cricket pundit, G Unnikrishnan, also advocated the axing of Dhoni in his column.
Cricket analyst Harsha Bhogle said the time is right to ask some "uncomfortable questions".
The Times of India declared Dhoni should "consider himself fortunate to be leading India in this era".
They reported: "Back in the 1970s, Ajit Wadekar won India three Test series in a row; including two historic away triumphs against England and the West Indies. But one 0-3 loss against England in 1974 and he was gone."
"Empire strikes back"
Indian cricket pundits and the media have been harsh in their criticism of the home team but showed no reluctance in praising England's performance.
Indian news agency PTI said the English team "bulldozed its way to victory over a dazed, confused but above all a spineless India".
And The Indian Express lead headline read: "Shamed! Empire strikes back, forces India to capitulate tamely in Nagpur Test."
The Hindu's said England had painstakingly prepared for this expedition and the heights were scaled with utmost professionalism.
Cricketnext.com's editor Jamie Alter said India were "outbatted, outbowled, outfielded and outthought".
The Tribune called England captain Alastair Cook a "great, motivational leader", adding that England have waited for this day for a long time - it coming 28 years after David Gower's unheralded team won in 1984-85.
Analyst Ayaz Memon said India "were outplayed in all departments of the game - even more so in two that are not reflected in stats and figures: fitness and planning".
Future tense
While Dhoni has been at the centre of the media's and cricket pundits' wrath, other players including Sachin Tendulkar, coach Duncan Fletcher and selectors are also getting a fair share of criticism.
Many believe Indian cricket's future looks bleak until wholesale changes are brought into the team.
Unnikrishnan says India's opening combination has been "in a shambles for nearly two years [and] a champion batsman [Sachin Tendulkar] is set to walk into [the] sunset sooner rather than later and there is no right replacement for him".
Speculation about Tendulkar's retirement comes up every time the batsman fails to score well, but his poor show against England coincided with his team's dismal performance.
Gavaskar said "they [the selectors] should talk to Sachin if they feel that he does not fit into the team. That is what they are paid for".
Alter argues India will continue to struggle, home and away and there should not be any shame in it. But he stresses that changes need to be made, senior batsmen need to "seriously introspect" and fresh blood has to be infused into the bowling department.
The Deccan Herald summed up the series by comparing the way the two sides left the pitch.
"The win followed fist pumps and hugs in [the] England dressing room, while the Indians walked off the field in small despondent groups. Hardly any other image told the entire story of the series," the paper reported.
BBC Monitoring reports and analyses news from TV, radio, web and print media around the world. For more reports from BBC Monitoring, click here. You can follow BBC Monitoring on Twitter and Facebook.