England win in India bigger than Ashes - Michael Vaughan
Last updated on .From the section Cricket87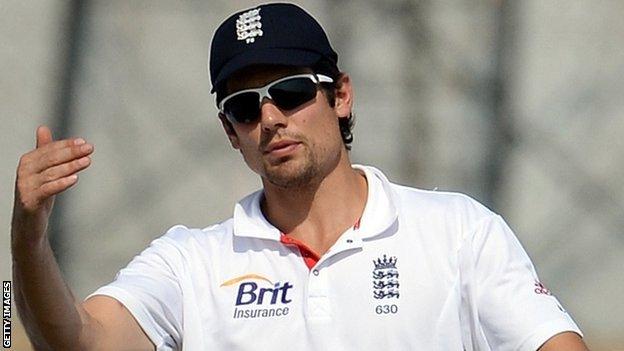 Former England captain Michael Vaughan says the current side's Test series win in India is bigger than the 2010-2011 Ashes series victory in Australia.
England won in India for the first time since 1985 after they came back from 1-0 down to claim a 2-1 series victory.
"To beat an Indian side on home soil is huge," Vaughan told BBC Radio 5 live.
"To beat that side in Australia was great. England have wanted to do that for many years but this is a bigger cricketing achievement."
He added: "[Captain] Alastair Cook is very modest but he has led England to probably their biggest achievement in many, many years."
Vaughan highlighted opening batsman Cook's form and captaincy as the key to England winning against an Indian side he believes has lost its appetite for Test cricket.
"The achievement is huge and I hope they get all the credit," said Vaughan, who feared a 4-0 whitewash after the tourists lost the opening match.
"England arrived in India not in great form. Then in Ahmedabad they are bowled out for 191 in the first innings of the first Test and you think 'how do you turn it around?' - it was because of Alastair Cook.
"I always say at the end of a series if you could have won without the captain then he is not a massive player within the team.
"This series there is no way England would have won without Alastair Cook, he has had that big a role. You can already see in the four games he has captained that his stamp is on the team. It is going to be a very professional unit in the next few years."
Vaughan also praised the exploits of 30-year-old Jimmy Anderson, who has taken 288 Test wickets, as he compared the pace bowler to former Australian great Glenn McGrath, the world's most successful fast bowler with 563 Test victims.
"It's the first time I have actually watched and really felt that [Indian batsman] Sachin Tendulkar feared a bowler," said Vaughan.
"You could see it in Sachin's eyes. Every time Jimmy had the ball, he didn't have a clue. He didn't know whether it was coming in, going out, does he go forward or back? Should he try to attack him?
"Jimmy has got that look in his eye now that Glenn McGrath used to have. He looks at the batsman to kind of say that you are not very good. He just takes the confidence away from the batsman.
"McGrath used to do it to all the England batsman. It is just this horrible kind of arrogant glare. I don't think they know they are doing it but Jimmy has it, that control and swagger when he gets the ball in his hand that just makes the opposition fear.
"England have just got to look after him because if they can for the next two or three years he is going to break all the bowling records and he will fully deserve to do that."
There have been calls for India captain Mahendra Singh Dhoni to be replaced after a first Test series defeat at home since losing to Australia in 2004.
"This Indian side for so long have not been playing great in Test cricket," said Vaughan. "It has been since the [Twenty20] Indian Premier League has come about. They have lost their buzz and energy for Test cricket, you can clearly see that.
"I was watching the Indians, particularly in the field, and I saw the sure sign of a team that looked like it didn't want to be out there when it got tough."