Sachin Tendulkar: Is it the end for India's Little Master?

By Tom Fordyce
Chief sports writer
Last updated on .From the section Cricket136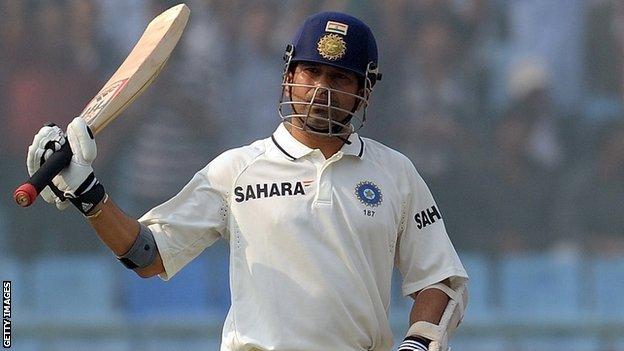 For a man whose masterful timing has been one of his defining talents, Sachin Tendulkar is mired in uncharacteristic torpor.
When to stay and when to go? Most sportsmen have little choice in calling time on their professional careers, the pitiless logic of selection, injury and succession culling them with little regard for personal preference.
Tendulkar, of course, has never been most sportsmen, which is why the topic of his retirement is both so intriguing and increasingly so dispiriting.
When you have touched the heights - and Tendulkar has made them his home - then scrabbling for scraps with the mere mortals is as unbecoming as it is chastening.
Scrabbling, sadly, is what he is doing. After 194 Tests, 15,645 runs and 100 international centuries, the Little Master has been reduced in recent battle to the status of a callow apprentice, the peerless style that took him to the top replaced by clunk and error, the cold currency of runs frozen at source.
In 14 Test innings this year, the highest-scoring batsman of all time has a top score of 80 and only one other 50. His last Test hundred came almost two years ago; his last truly great innings, the 214 that inspired India's seven-wicket win over Australia in Bangalore, was 26 months back. In six innings against England in India's recent 2-1 series defeat, he scored just 112 runs at an average of 18.66.
At his best, Tendulkar's footwork at the crease, his array of shots and ability to know exactly when to play them set him apart from all but the most select of contemporaries or predecessors. He could score on any pitch, in any country, against any attack.
In his humbling dotage, those strengths have become weaknesses. He is slow to get forward, uncertain in shot selection, unable to adjust to the delivery's menace. Supporters fear. Bowlers believe.
When advancing years shackle once supple sportsmen, the mind still knows where to go but the body will no longer follow. When the body fails to produce, the mind then falters. Impenetrable confidence is replaced by self-doubt, and the vicious circle is complete.
Tendulkar need not look far for an example of how to grow old gracefully. "The art of scoring runs evolves as you grow," says Graham Gooch, who continued batting for England into his 42nd year. "You can adapt the way you play to make sure to you can continue to have success."
Equally, there are case studies from his own generation that may give him a clearer indication of his own immediate future.
Ricky Ponting, who retired this month two years younger than Tendulkar, knew from his numbers that his time was up.
Having averaged well over 50 throughout his Test career, in the penultimate year of his career that plummeted to 17, without a single century. Even if he then averaged 43 during his final 12 months, the writing was in the scorebook.
It was the same for Brian Lara, the man whose Test run-scoring record Tendulkar overtook. The Trinidadian superstar saw his average for West Indies fall from almost 54 at the age of 36 to a comparatively mediocre 41 for the innings he played during the final year before retirement, enough for him to call time at 37 years old.
Aged 39, Tendulkar's decline is unarguable. His overall Test average is 54. In the 12 months up to this time last year, that average was already sliding, down to 41 with just one century; in the past 12 months it is 27.
Few old stagers can buck the trend. Even those who can do so often prefer to finish on a high than wait for the inevitable slide.
Rahul Dravid, for so long Tendulkar's team-mate and partner, averaged a notable 51 in the last year before his retirement in early 2012, against a career mean of 52. But in his 40th year he knew there could be no improvement, and waved goodbye from the summit.
In South Africa, the last of the great 30-something batsmen of this age, Jacques Kallis, may yet have chance to do likewise.
In the past 12 months, the 37-year-old has averaged a remarkable 59 in Tests and compiled four centuries, well above his previous figures. Life still fizzes through the veins of the old dog in a way it does not his senior on the subcontinent.
To some Tendulkar acolytes it would be unthinkable that the end of his Test career should be forced on him rather than carefully chosen by the man himself.
And Tendulkar too has raged against the dying of the light. He was just shy of his 37th birthday when he achieved what had eluded batsmen for 40 years and scored the first double-hundred in one-day international history; he was one month short of his 39th birthday when he became the first player to score 100 international centuries.
That last accomplishment, however, came as late in the day as it did in part because it took him a year to score another after his 99th.
Determination and denial aside, a player's demise can be delayed by the lack of pressure from underneath. Would a replacement, ask the defence, do any better than the man in possession?
That argument is valid so long as a slump is only temporary. Class may be permanent; eyesight and reflexes are not.
Tendulkar is protected by his immense achievements but the end must come at some point. If not now, when? If in the future, will it be any happier?
India's next Tests are not until February, when Australia arrive for a four-match series. Against an attack without the menace of England's spinners, Tendulkar may have a better opportunity of the glorious finale his career deserves.
Equally, sport seldom has time for neat valedictions and sentimental endings.
Ponting's last series, at home to South Africa, brought him just 32 runs in three Tests, and the last of his 287 Test innings just eight runs. Gooch scored only four in his final Test knock, and as for Don Bradman - Tendulkar's main rival as greatest batsman of all time - well, we all know what happened to Bradman.
Tendulkar ended the final Test against England this week in the dressing room, leaving the field early to minimal fanfare as he sought treatment for a sore shoulder.
If it proves his final exit from Test cricket it would hardly appear a glorious one. But neither should it be taken as a reflection of what came before. An ending is just that: not a summary, not a tribute.