England not finished article after India series win, says Alec Stewart

By Alec Stewart
Former England captain
Last updated on .From the section Cricket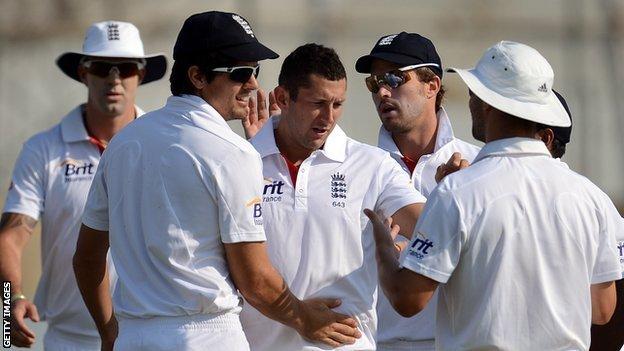 Congratulations to each and every member of the England squad, and the coaching and backroom staff, on a superb series win in India.
After suffering such a heavy defeat in the first Test, it seemed inconceivable that England could come back and win the series, but they did so in style and they deserve all the plaudits they are receiving.
Alastair Cook, in his first series as captain, gets 10 out of 10 for his performances with the bat and the way he led the side. He couldn't have wished for or asked for any more from himself or his team.
After the nine-wicket defeat in Ahmedabad, I questioned whether lessons had been learnt from the whitewash by Pakistan in the UAE, but by the end of the series each and every batsman had found a way to make a big score on sub-continental pitches and that will stand England in good stead in the future.
The England selectors deserve huge credit for some of the key decisions they made over the course of the series - realising they had made a mistake by leaving out Monty Panesar in the first Test and correcting it in Mumbai, replacing Stuart Broad with Steven Finn for the third Test in Kolkata and bringing in Joe Root for his debut in Nagpur.
At times, there has been a perception that it is harder to get out of this England side than it is to get into it, but the selectors have shown they will make tough calls in the best interests of the team.
The instant impact of players like Panesar, Finn and Root shows the strength in depth England currently have at their disposal. The best Test sides always have players on the fringes who are snapping at the heels of those in the team and England now have a stable of batsmen and bowlers who have all shown they can perform to a high level in the Test arena.
This is in no small part due to the money the England and Wales Cricket Board have invested in blooding players for international cricket.
In the past, players were plucked out of county cricket and thrown straight into the Test team, but now through the academy at Loughborough, the England Performance Programme and the Lions squad, England have a system in place which means selectors can find out everything they need to know about a player's temperament and technique before exposing them at the highest level.
Now you have people like Root, Finn and Jonny Bairstow coming into the Test team, and Jos Buttler and Chris Woakes coming into the one-day side, and making an instant impact.
England deserve to be praised to the hilt for their exploits in India but I don't want to go overboard about the calibre of this side off the back of one series victory. It is important to recognise that they are not the finished article yet.
If there is still one area that would make them stronger and more balanced it would be to find a genuine all-rounder at number six who can bat and be a frontline bowler.
We are lucky to have Matt Prior, who is a world-class wicketkeeper-batsman at number seven, but to enable us to play five bowlers - which is the ideal set-up for a Test side - we need to search hard for a genuine all-rounder in the ilk of an Andrew Flintoff or a young Jacques Kallis.
Those types of players are few and far between and I don't know of anyone in the county game who is ready to fulfil that role, but no expense should be spared in trying to encourage and develop young players who show true pedigree with both bat and ball.
Another area England have been falling short of late is in their fielding. Assistant coach Richard Halsall has done wonders with that aspect of their game over the last three years but standards have slipped of late. We have been missing too many opportunities and this is definitely an area that England need to tighten up.
England should aspire to getting back to the top of the Test rankings and in order to do that, every individual must want to get better. If they just sit back and think they have achieved everything other sides will go past them very quickly.
England have finished 2012 in a far better way than they started it in the UAE, but they must not get complacent. This team is capable of a lot more yet and I expect them to reach the pinnacle in the near future.
ASK STEWIE
Mike Northover (@mike the saint81)
How much of England's win was down to India's diminishing powers?
As English people we are too quick to look at the opposition's failures. I would much rather look at what England have achieved, namely outperforming India in their own back yard. Our bowlers have not allowed their batsmen to post the totals they would have wanted and we have countered their bowling with high-class batting.
James Mackenzie @JMackenzie95
Should England play two spinners on home soil or go back to three seamers and Graeme Swann?
Three seamers and one spinner has worked exceptionally well for England in their own conditions. It is great to have a spinner of the quality of Monty Panesar up your sleeve but the surfaces will decide the make-up of any attack and the pitches in England tend to favour the seamers.
Pschy_ling @psych_ling
Australia's bowling is in disarray with injuries. What do you see as their best attack for the Ashes?
This is a very difficult question precisely because of the injuries. James Pattinson, Pat Cummins and Mitchell Starc all look highly promising cricketers but until I have seen them play four or five Test matches in a row it is impossible to say whether they should be automatic choices. Peter Siddle, Ben Hilfenhaus and Mitchell Johnson have all been there and done it, but have struggled for consistency in the last two Ashes series. Nathan Lyon has nailed down the spin bowler's berth and there doesn't seem to be a huge amount behind him, suggesting England may be wise to consider preparing turning pitches for the home Ashes next summer.
Ged Colleypriest @ged_melancholia
Kevin Pietersen - is all forgiven?
What has happened has happened and the issues appear to have been resolved. Anyone who said Kevin should never play again was taking a very short-sighted view. When you have a problem in life, you find a solution and that is what England did with KP.
Matt Frost @MattFrostie
What do you think about between balls when you have been out in the middle for four hours?
No one can concentrate for four hours without a break. The secret of batting time is to be able to switch on and switch off while staying in the zone. I used to walk off towards square leg after each ball to look around the ground and give my mind a rest. Sometimes I would share a joke with my batting partner. Most dismissals come about through lack of concentration so the most important thing is to switch on again when the bowler starts his run-up.