Sussex appoint Zac Toumazi as new chief executive
Last updated on .From the section Cricket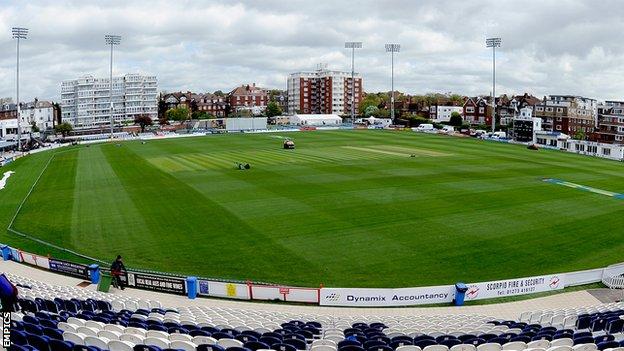 Sussex have announced Zac Toumazi will take up the role of chief executive in January, replacing Dave Brooks.
Toumazi has filled commercial roles at Surrey and Hampshire and previously worked in financial services for Citigroup and Goldman Sachs.
He told BBC Sussex: "I think we've got a great foundation here.
"I think we have got to put the County Ground on the map. I'd like to see attendances up and non match-day revenue increase."
He added: "The business is in shape and lives within its means.
"I think we are better placed than most other county grounds to move forward.
"I also want to work with the cricket management team to make sure they have got everything they need to help us compete at all levels.
"I've met with Mark Robinson [Sussex professional cricket manager] and felt an instant connection."
Sussex chairman Jim May praised outgoing chief executive Brooks for leaving the club in "great shape" after four years in the role.
Brooks, who helped to oversee the redevelopment of Hove County Ground, was appointed to the board of Guernsey Cricket earlier this week.
"We had a very strong group of candidates who applied to succeed Dave," May said.
"We believe Zac's commercial experience, cultural fit and passion for cricket give him the credentials to ensure that Sussex cricket continues to lead the way both on and off the pitch."
Australia will play a three-day tour match at Hove during next summer's Ashes series against England and Toumazi believes there is a chance to bring more international sides to Sussex.
"The Australian touring team wanted to play one of their games here and entertain their families here," Toumazi said.
"I think there is an opportunity that we can be the ground that touring sides want to come to and spend time here.
"We're not going to hold an Ashes Test here. We need to figure out what we are good at and go after it."