Mark Ramprakash relishing Middlesex batting coach role
Last updated on .From the section Cricket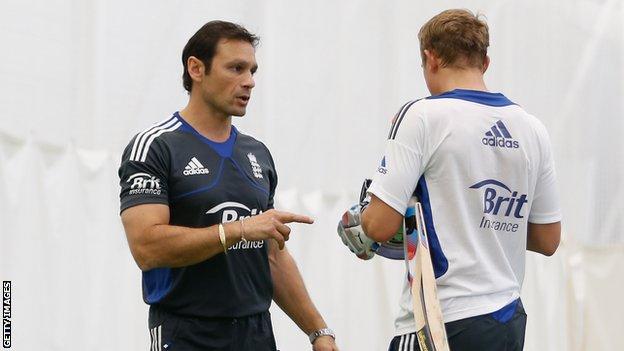 Mark Ramprakash hopes to use his experience from his playing days to make an impact as Middlesex's new batting coach.
He told BBC London: "As a player I always had the attitude to try and improve all the time and I realise I am just starting my coaching career.
"I'm learning every day about different situations. With 25 years of experience I feel I have plenty to offer."
He added: "As much as I might want to go out and try and play, those days are over.
"For coaching it's all communicating with the players. I am looking forward to building relationships with them, looking at their strengths and weakness and try and bring something fresh to them."
Having spent time coaching with the England & Wales Cricket Board since retiring in July, Ramprakash says the offer of work came as a surprise.
"It came about a bit unexpectedly as Mark O'Neill [Middlesex's previous batting coach] decided not to return for 2013," he said.
"Middlesex were looking around and I had started coaching with the ECB with the Under-17s and the England Lions.
"That has gone quite well and Middlesex were monitoring it.
"Being involved with the ECB, I feel I am at the cutting edge of coaching.
"Particularly when it comes to batting and the training techniques and how you deal with individuals.
"That is primarily the thing from my involvement with the ECB that I think will help me."
Ramprakash made his first-class debut for Middlesex in 1987 at the age of 17 and he is excited to be back in north London after a 12-year association with Surrey.
"I grew up watching the side on TV winning trophies under Mike Brearley and was lucky enough to sign in 1987 when Mike Gatting was captain," Ramprakash continued.
"It is a club with a lot of traditions and I was very lucky to be a part of that for 14 years.
"I had a lot of good times, I have a lot to be thankful for and it's nice to come back in a coaching capacity.
"Middlesex came third in the league last year, have a really talented and I am looking forward to working closely with the young players.
"They want to bring more home-grown talent through.
"I'm looking forward to contributing what I can to the batters and as a coach."