Sachin Tendulkar: Tributes after one-day retirement
By Vikas Pandey
BBC Monitoring
Last updated on .From the section Cricket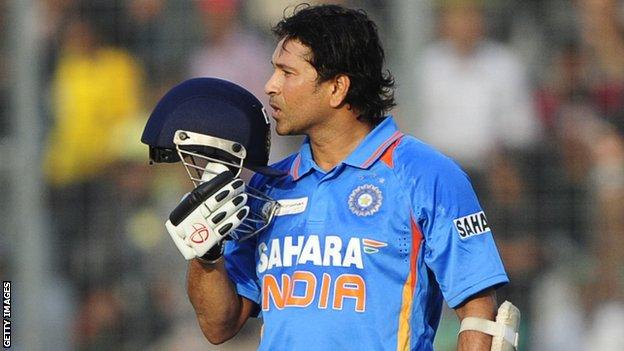 Sachin Tendulkar, India's very own "god of cricket" will never again answer fans' prayers for runs in one-day internationals after deciding to retire from the format he served for more than two decades.
And his decision has sparked an outpouring of tributes from his team-mates, cricket pundits, and millions of fans who believe watching the game will never be the same without the master batsman.
The record-breaking cricketer will continue to play in Test matches, but this has not provided any consolation to his fans.
The fantastic four
Tendulkar was part of a formidable batting line-up, alongside Sourav Ganguly, Rahul Dravid and VVS Laxman, that combined to earn India many memorable wins in Tests and one-day internationals.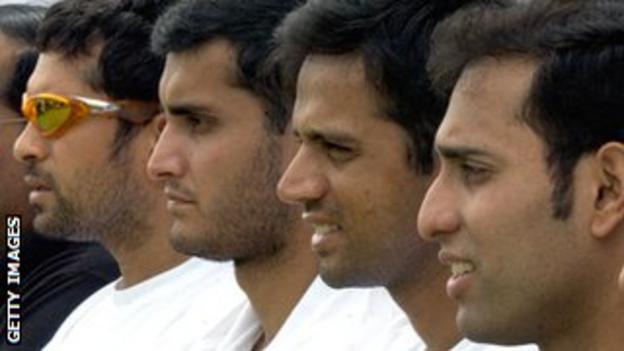 And the three champions from form the quartet were first to pay their tributes to Sachin's illustrious one-day career.
Former skipper Ganguly felt that there was "still hope" that he will continue, but the decision eventually came as a "big blow".
"His greatness did not lie in being a terrific talent, but the way he used his talent to attain enormous heights. He is too precious and too good," the former captain wrote in his Hindustan Times newspaper column.
He added that playing alongside Tendulkar "was an honour" and his longevity has been "beyond imagination".
Also writing in the Hindustan Times, Laxman said the master batsman always put his team ahead of personal laurels and this quality earned him respect from his team-mates and fans all over the world.
And fellow ex-captain Dravid admired the ability of the 'Little Master' to give his absolute best in any conditions and against any team.
The artist
Many fans, including former Pakistan captain Inzamam-ul-Haq, say they will never forget Tendulkar's elegant straight drives, his artistic stroke play and those thunderous sixes.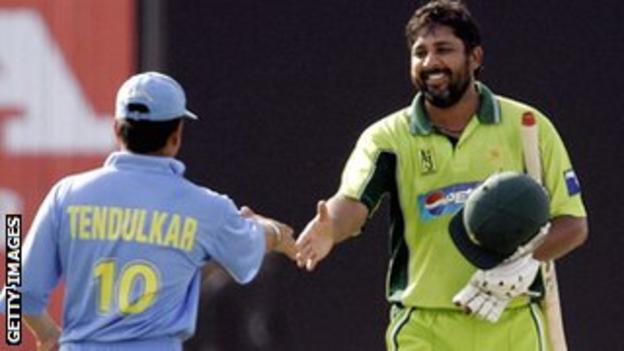 Inzamam said a "chapter in cricket's history has come to an end" but rather poetically he added that the "book is still to be finished", referring to Tendulkar's decision to continue in Test cricket.
The champion batsman's ability to read the 50-over format of the game won many matches for India, but it was the mix of his artistic style and aggression that amazed cricket fans during his glorious 23 years in one-day internationals.
He could play an elegant cover drive and then go for a towering six the very next ball. This made him a class apart among his contemporaries.
Cricket pundit Pradeep Magazine said his "masterly control and "intuitive innovations" made him play knocks "out of bounds for mere mortals".
The Hindu's Vijay Lokapally wrote that Sachin believed in adapting to different tasks, and it came "naturally to him".
The sandstorm
Tendulkar has been often compared with Australian legend Don Bradman, and West Indies batting star Brian Lara among his contemporaries, but very few can match the kind of respect he commands among his fans round the world.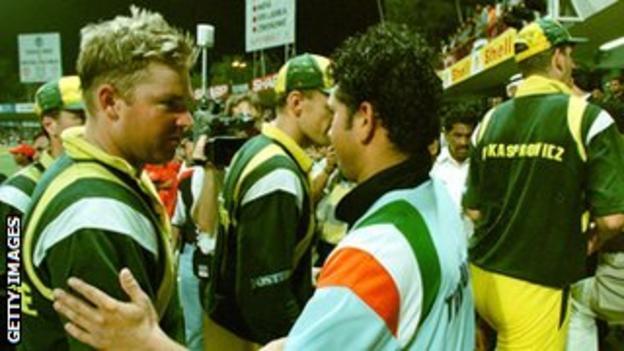 His innings of 143 against Australia in Sharjah in 1998 has remained etched in the memory of millions of fans. The match had every emotion one associates with sports.
After a sandstorm disrupted play, India faed a revised target of 237 in 46 overs to qualify for the final. The middle order collapsed, leaving Tendulkar alone to take the team home. The heat was unbearable but a determined Tendulkar took the adverse conditions in his stride and saw the team home by smashing five sixes and nine fours.
Laxman, who was at the non-striker's end, said "the strokes he played were exemplary. Good ball or bad, it simply had to go to the ropes".
Tendulkar repeated his heroics in the final to help India win that one-day tournament in Sharjah and his innings earned "the sandstorm" nickname.
And 12 years later in February 2010, he became the first batsman to score a one-day interntaional double century, against a well-balanced South African attack.
Twitter tributes
The social networking website has been abuzz with tributes to Tendulkar since the news broke on Sunday as celebrities, cricketers and fans joined hands to pay their tributes.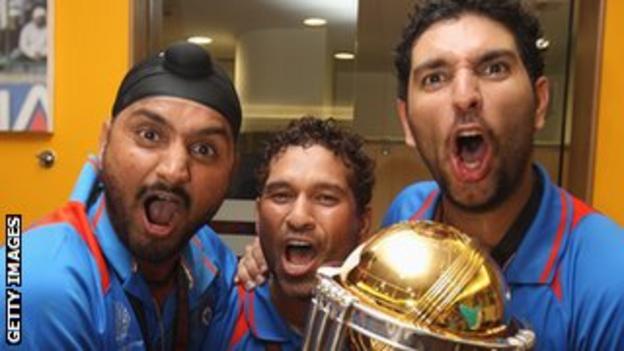 India all-rounder Yuvraj Singh tweeted: "Emotional time! Letting Sachin go from one dayers. 18 thousand plus runs. Your jaw drops when you see those records, master you will always live."
Fast bowler Ishant Sharma showed his admiration: "You'll be missed a lot. Thanks a lot for whatever you have given to Indian cricket."
"In Test cricket, Sachin may have had serious rivals in Lara, Ponting, Kallis for being the best batsman. But in ODIs, he was peerless," cricket analyst Ayaz Memon wrote.
And broadcaster Harsha Bhogle seemed to agree with Menon: "Tried thinking of my favourite Sachin ODI moment. So many. Gave up. He's left behind a mountain no one can scale."
BBC Monitoring reports and analyses news from TV, radio, web and print media around the world. For more reports from BBC Monitoring, click here. You can follow BBC Monitoring on Twitter and Facebook.